We live in the age of exciting travel technology. New innovations have changed how we travel, introducing new efficiencies and transforming the overall customer experience. But how exactly is this happening? Find out by reading this essential guide.
Contents
It's hard to deny that technology has been a key driver of transformation in the travel industry. It's become integral in nearly every aspect of travel: from choosing our holiday destinations to getting around towns or cities, and even returning from our travels — whether for leisure or work.
Case in point: research by Google and Bain & Company shows that the average traveller spends 13% of their time on the internet conducting travel-related activities, ranging from research to booking flights.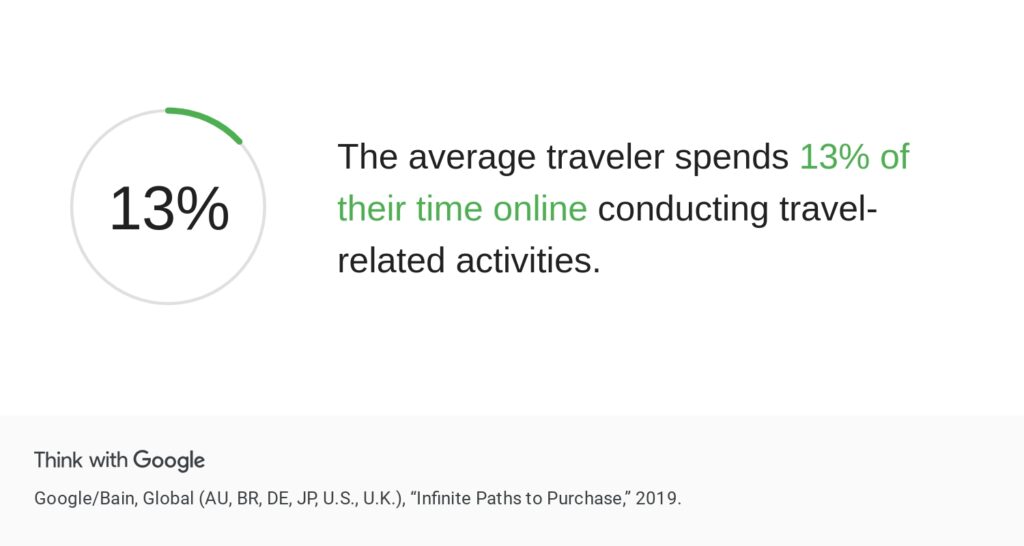 In fact, 95% of people proceed to visit travel-related websites after a booking.
Unsurprisingly, this evolution of consumer habits is not lost on the travel industry. A 2020 report from Skift and Amazon Web Services shows that 43% of travel organisations believe it's "much more important" to proceed with digital transformation initiatives that were underway before the pandemic.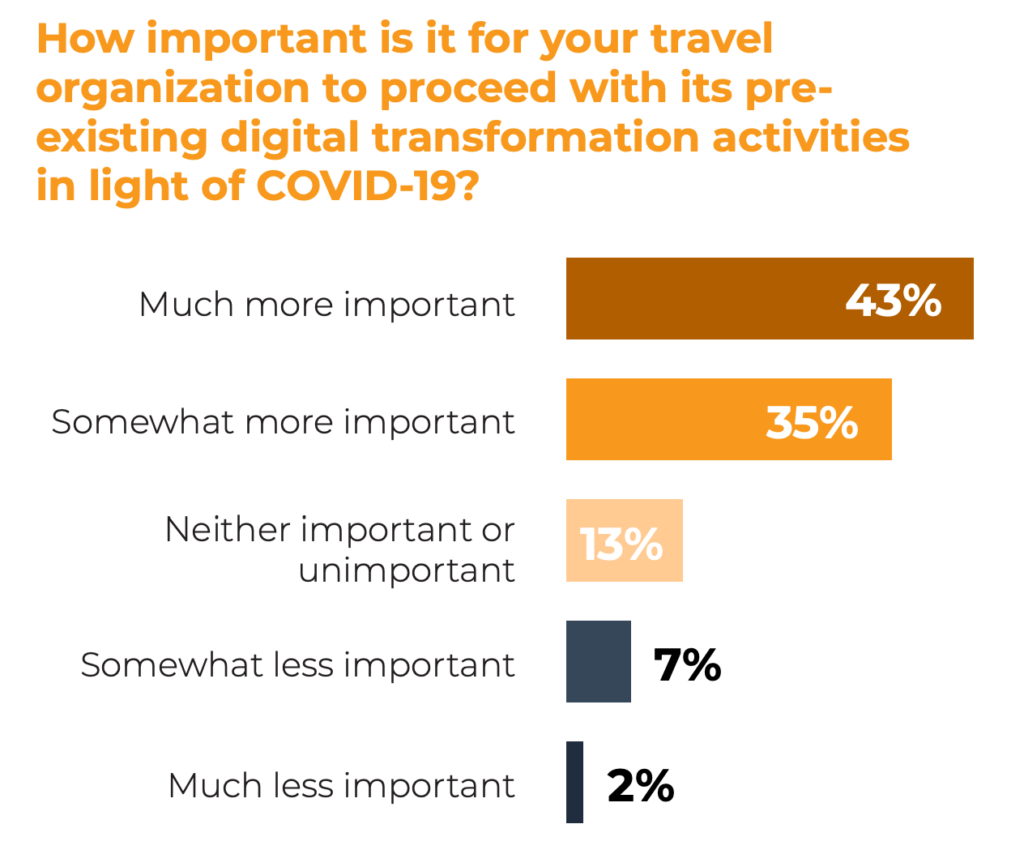 As the travel industry shows signs of returning to pre-pandemic levels of activity, digital transformation through the strategic use of travel technology will be instrumental in ensuring a positive customer experience.
But how exactly are travel brands using travel technology?
What is travel technology?
Travel technology is a broad term that refers to the strategic use of digital technologies within tourism, hospitality and travel. It can range from something as simple as an online portal where guests can book reservations to something more sophisticated like a travel chatbot that interacts with tourists (in the language they use, no less) as they explore a city's sights and sounds.
Technology is particularly relevant for travel and hospitality — after all, the industry was among the first to embrace the internet in the 1990s. Here's a quick look at what happened that decade, according to The Guardian:
In 1994, Travelweb.com emerged as the first comprehensive online directory of hotels around the world. It would allow customers to make reservations through the site a short time later.
That same year, Jeff Greenwald began an entire vocation and industry for travellers worldwide: he published the first travel blog posts on the internet.
Internet Travel Network (ITN) claims to have facilitated the first online airline ticket booking in 1995. The company rebranded itself as GetThere and would later be sold to travel technology company Sabre for $757 million in 2,000 — a testament to the importance of the internet for the travel and hospitality industry.
Whilst there are many different ways to implement technology in travel and tourism, most companies approach it with a simple goal: to optimise processes for efficiency, allowing organisations to save time, reduce costs and create a more intuitive travel experience for consumers.
How technology is changing the travel and tourism industry
Whilst the level of travel technology adoption will vary widely from one organisation to the other, digital transformation has created the following changes in the travel and hospitality industry.
1. Business process automation
The advent of AI and machine learning has allowed travel organisations to automate many of their routine and repetitive processes. Tasks involving coordination, organisation and communication can now be automated, making them more efficient and freeing up employees to focus on more complex work that needs their attention.
Customer service, in particular, is reaping the rewards of automation. Research by Deloitte shows that 79% of contact centre leaders in 2021 plan to invest more in their AI capabilities over the next two years.
Automation allows customers to contact hotels and travel agencies around the clock, on any device, communication platform or social media channel. For example, AI-powered chatbots can enable self-service on Your website and even process Bookings and reservations without leaving the chat.
<cta>Related reading: 3 practical applications of chatbots for customer service
2. Enhanced hotel amenities
From flat-screen TVs to keyless door locks — tech has been instrumental in creating an enjoyable hotel experience. For many travellers, certain tech features are an essential component of a hotel's amenities. For example, 80% of travellers identified Wi-Fi/internet access as the hotel service most important to them, according to a Statista survey in 2017.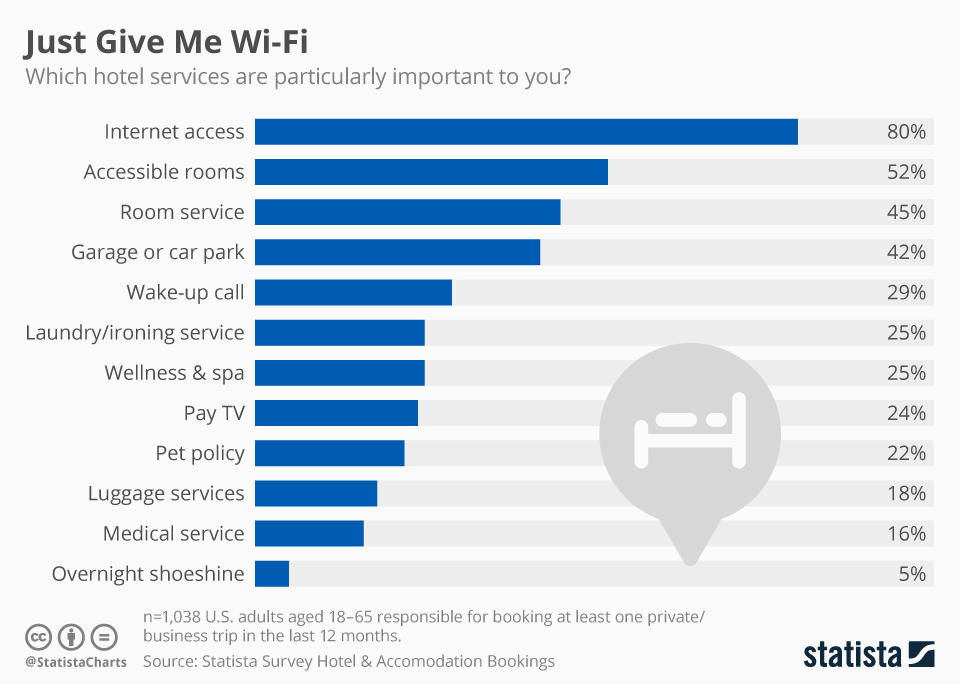 More recently, hotels are turning to the Internet of Things (IoT) to introduce new conveniences, such as mobile keys. Marriott's Bonvoy App, for example, allows guests to activate a Mobile Key on their mobile device, which then uses its built-in NFC technology to replace the traditional keycard.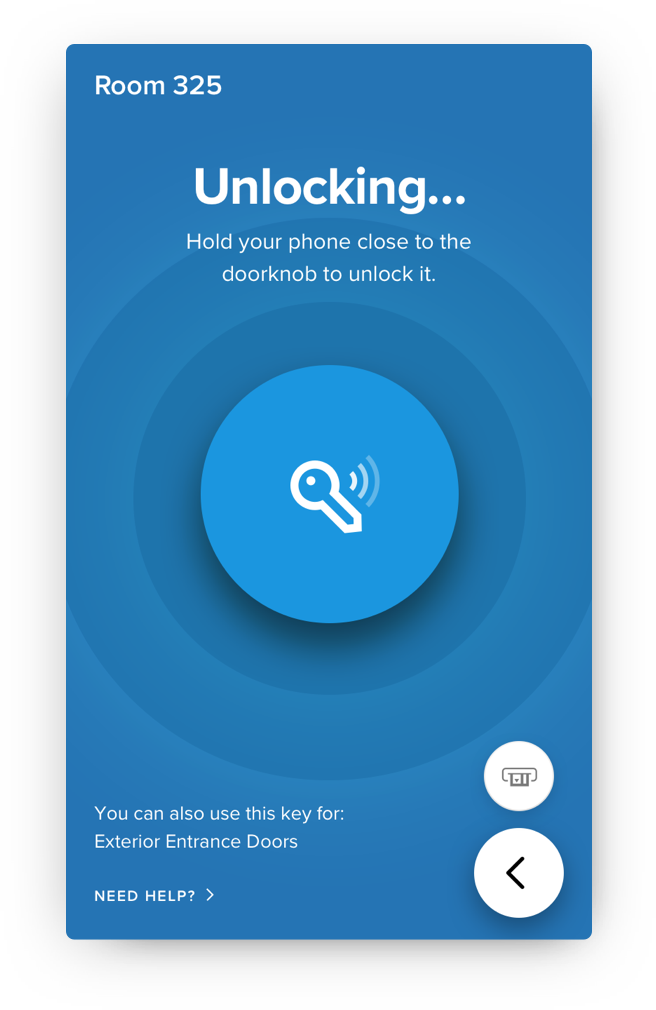 3. Faster and more convenient check-ins
Technology has made checking in, whether at airports, train stations or hotels, more convenient than ever. From AI-powered self-check-in kiosks to contactless mobile Apps, technology has made it possible for travellers and customers to self-serve, checking in when they need to from any platform or device.
And as the travel and hospitality industry learned over the course of the pandemic, these features, whilst cool, were vital in supporting enhanced hygiene protocols. The contactless nature of self-check-in platforms and mobile keys proved immensely useful in helping travellers and staff maintain a consistent level of social distancing.
Related Reading: AI in hotels: How tech is transforming the guest experience
4. Improvements to staff services
In many ways, travel technology has also transformed the way employees in travel, hospitality and tourism conduct their work.
Customer service staff and travel agents, for example, can use customer relationship management (CRM) platforms to eliminate many of the routine tasks they deal with. These include:
Responding to frequently asked questions. Automated chatbots are particularly well-suited for this task.
Processing invoices. Whenever a travel agency completes a booking, it must also send invoices to clients. Invoicing software can handle this process automatically at scale.
Updating passenger name records (PNR). Passenger name records are critical travel and transport documents that hold passenger information such as names, contact information and travel details (ticket details, passport data, frequent traveller details). Bots can free travel agents from having to manually find and update this information, saving time and reducing the risk of inaccuracies and human error.
5. Improvements to communication
Technology has given workers in the travel and hospitality industry new and more efficient methods of communicating with customers, clients and suppliers. Platforms like CRM software make transferring information between two or more parties easier — often without any direct human intervention.
For front-of-house staff like travel agents, this ease of communication can reduce the risk of burnout. At a time when 74% of contact centre agents report being at risk for burnout, the strategic use of technology can go a long way towards providing much-needed relief.
4 Developments in high-tech travel to pay attention to
Here's a closer look at a few of the most exciting technologies changing the face of the travel, hospitality and tourism industry.
1. Automated robots
In recent years, robots have enabled travel brands to automate tasks that would otherwise require the supervision or involvement of a live person.
For example, Whiz, a cleaning robot built by SoftBank Robotics Group Corp., can be deployed in airports and hotels to automatically clean floors whilst avoiding collisions with people and obstacles — like a Roomba but for industrial-level cleaning.
Robots can also help hotel guests carry their luggage to their rooms. At the Sheraton Hotel in Los Angeles San Gabriel, a fleet of robots delivers luggage, provides room service and even shows guests around the hotel premises.
2. AI chatbots and virtual assistants
In many ways, AI chatbots for the travel industry are the low-hanging fruit for organisations looking to drive digital transformation — particularly in their customer service capabilities. They're relatively easy to deploy and, depending on your provider, come with a range of features that provide immediate relief to your customer service teams.
Despite what the media will have you believe, chatbots are far from advanced enough to replace human agents. But they can take care of many time-sapping and repetitive tasks.
In the travel industry, chatbots can take care of:
Answering FAQs with 24/7 availability
Answering FAQs in the user's desired language (essential for foreign guests)
Processing

Bookings

and reservations
Paying for tickets and accommodation
Acting as virtual tourist guides, providing travellers with directions and tips on local sights and sounds.
Related reading: Chatbot terminology guide for newcomers: 12 terms you should know
Chatbots hold tremendous potential for travel and other industries, so much so that the global chatbot market is expected to reach $3.6 billion in value by 2030 — up from $526 million in 2021.
3. The Internet of Things (IoT)
The IoT presents many exciting opportunities to transform the travel experience. The IoT refers to a network of physical objects connected through sensors and software over a wireless internet network. These "things" can then be programmed to send and receive all kinds of information.
Already, we see exciting applications of IoT-enabled devices in the travel and tourism industry. For example, the Hong Kong International Airport provides travellers with MyTags — luggage tags that interface with sensors in the airport. These smart tags notify travellers via the My HKG mobile app when their luggage can be claimed at the baggage carousel.
4. 5G networks
5G networks play a crucial role in supporting the expansion of IoT-enabled devices. The fifth generation of broadband cellular network technology promises higher speeds, lower latency and greater capacities than 4G LTE networks.
5G also enables higher-density connectivity — it can support up to 1 million devices per .38 square miles. In contrast, 4G networks can only support 2,000 devices in the same area. For the travel and tourism sector, 5G opens the doors for larger rollouts of smart devices, each capable of transmitting and receiving more data than ever.
For example, popular tourist sites like the Roman Baths in Bath, England, use 5G mesh networks to stream high-quality augmented reality (AR) videos, allowing visitors to see virtual reconstructions of the site while inside its ruins. This only scratches the surface of how 5G can support more engaging and immersive experiences for travellers.
Embrace technology or be left behind
Technology has always played a special role in making travel a safer and more enjoyable experience for all kinds of travellers. With domestic and international travel activity showing signs of returning to pre-pandemic levels, brands have an opportunity to embrace innovations and stand out from the crowd.
But despite the acceleration of travel technology adoption during the height of the coronavirus crisis, research by Sitel shows that positive consumer perception of innovation in the travel and hospitality industry declined from 14% to 8% since the start of the COVID-19 crisis. In other words, there's plenty of room for improvement and further applications of technology. The challenge now is figuring out which technology actually creates value for your organisation and customers.
Follow the Futr blog to get more insights on how the latest technologies are transforming customer service in travel and other industries.
Contact the Futr team to learn how our live chat and chatbot platform can be deployed to your travel organisation. You can also sign up for a free four-week trial or schedule a FREE demo of our technology.