Get feedback through live chat & chatbot surveys
Customer feedback fuels business intelligence, but are you surveying your customers efficiently?
Email doesn't work — it takes too long and makes things inconvenient for your customers. With Futr, our live chat and chatbot platform surveys your customers on the channels they use every day.
And with our multilingual chat features, your customers can instantly read and respond to your surveys in 120+ languages. Watch and enjoy as we take your completion rates to the next level.
Transform your survey complete rates with chatbots
Let customers take surveys when it suits them — on the go, 24/7. Make it easy to stop and restart at their convenience.
Email surveys don't work. Talk to customers on the channels they already use, from Your website to WhatsApp and Facebook.
Bring surveys to digital chat channels and see an instant uplift in open and completion rates.
Automatically validate and secure your customer data as it comes through the chat and into your systems.
Government Grade Security
Enjoy end-to-end security architecture with military-grade data encryption in transit and at rest.
Make your customer surveys available in 120+ languages straight away.
Get customer feedback through live chat and chatbot surveys
Use chatbots for faster, more convenient customer surveys
Let chatbots automatically survey your customers on Your website or social media channels.
Create your own  surveys from scratch or choose from any of our awesome survey templates:
Net Promoter Score (NPS)
Customer/Citizen Satisfaction
Website/Product Feedback
Post-Event Feedback
Diversity
Environment
Volunteer Feedback
Increase your survey completion rates
Boost participation rates with survey bots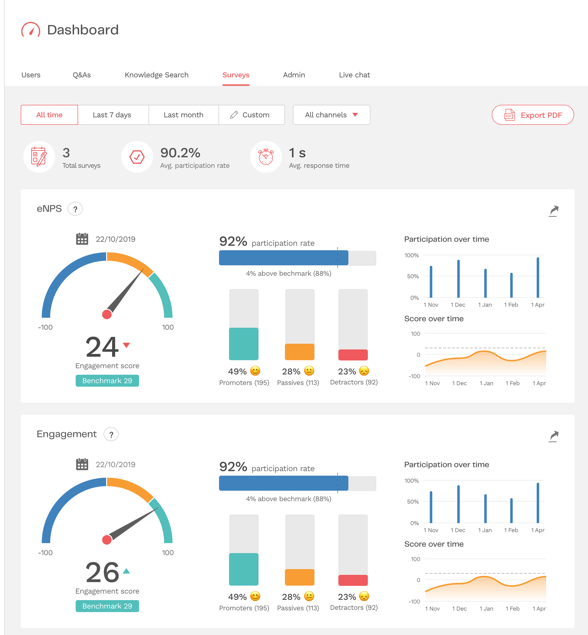 maximise your surveys' value
Use chat analytics data to maximise your surveys' value
Get invaluable insights on the key areas you survey, whether it's customer satisfaction, employee happiness and stakeholder engagement. 
Futr will automatically validate and secure your customers' data and create reports that you can evaluate and compare over time to improve your surveys' effectiveness.
Explore your data and make fast, data-driven actions to make improvements to your organisation.
live chat & chatbot features
Discover our live chat and chatbot features
Data encryption in transit and at rest