The adoption of AI in hotels is becoming more of a necessity than a choice. Learn how AI is transforming the hotel guest experience.
This post was updated in February 2022
The hotel industry has long been a testing ground for cutting-edge technologies — particularly those that hotel guests get to interact with. The world of hospitality has a long history of embracing innovation, which spans the use of lifts in hotel buildings in the 19th century, the reservation boom of the 50s to hotels going online in the 90s, and offering WiFi in the early 2000s.
Each application of technology sought to overcome challenges, whether by streamlining hotel operations or finding new ways to delight hotel guests. The recent use of artificial intelligence (AI) in the hotel industry is no exception.
Artificial intelligence: The new imperative for hotels
AI in hotels is not exactly new. As early as 2014, Starwood — then one of the world's largest hotel companies — experimented with robot butlers called "Botlrs" in one of its hotels in Palo Alto.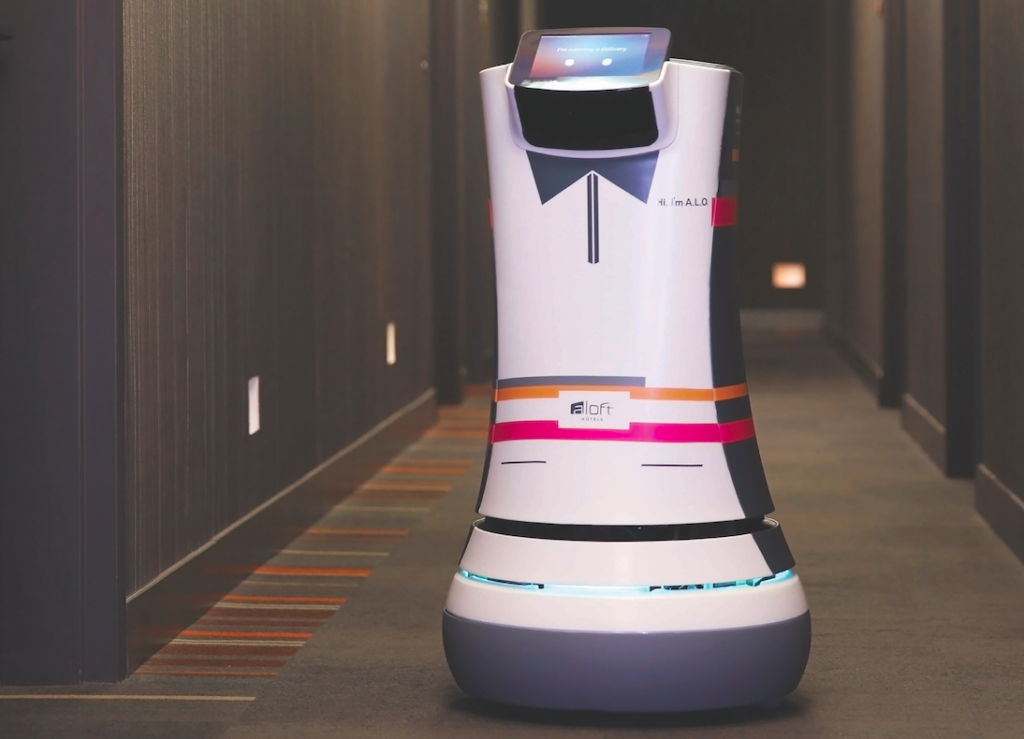 The concept never quite took off as Starwood would find itself acquired by Marriott International in 2016. But it did offer a glimpse of AI's potential to transform the guest experience.
Although autonomous robots tend to be the first thing that come to mind when we think of AI, its real-world applications are much less science fiction. Take automated check-in/out systems, for example. In 2010, Premier Inn announced its first automated self-check-in/out kiosk at its St Mary's Gate, Sheffield location — a move designed to slash check-in times down to less than a minute.
This approach to AI may be less exciting than robots but can still have a profound effect on the guest experience.
Of course, all this begs the question: What is artificial intelligence?
What is artificial intelligence?
At its simplest, artificial intelligence (AI) is the simulation of human intelligence by machines, particularly computer systems. It refers to computers performing tasks, processes and activities that typically require human cognitive function. AI capabilities are often associated with closely related concepts like data analytics, machine learning and the Internet of things (IoT).
Today, the hotel sector, and hospitality industry as a whole, leverages AI to gather customer data and combine it with a wide range of computing systems to perform functions such as:
Providing basic customer service
Personalising marketing messages
Facilitating reservations, check-in and check-out processes
Engaging hotel guests during their stay through direct messaging.
At Futr, for example, we use AI to enable our chatbots to understand the context of conversations and automatically compare them with historical data to provide meaningful responses to customers. Our AI-powered chatbot performs messaging tasks that would typically require human intelligence for:
Decision making
Speech recognition
Language translation.
Why hotels are accelerating their use of AI
Industry-wide adoption of technologies enabling hoteliers to scale their automation and data analytics capabilities has been years in the making. However, the ongoing COVID-19 pandemic forced hotels to accelerate their adoption of new digital technologies — AI included.
As Max Starkov, Adjunct Professor at the NYU Tisch Center for Hospitality, explains, "The marketplace itself, severe labour shortage, cost efficiencies and the rising tide of digitally-obsessed travel consumers are demanding that our industry overcome its glaring technology deficiencies and imposing on our industry the rapid adoption of next-gen technologies."
According to an Oracle report, 76% of hospitality executives agree that the pandemic accelerated their hospitality business's adoption of new technology.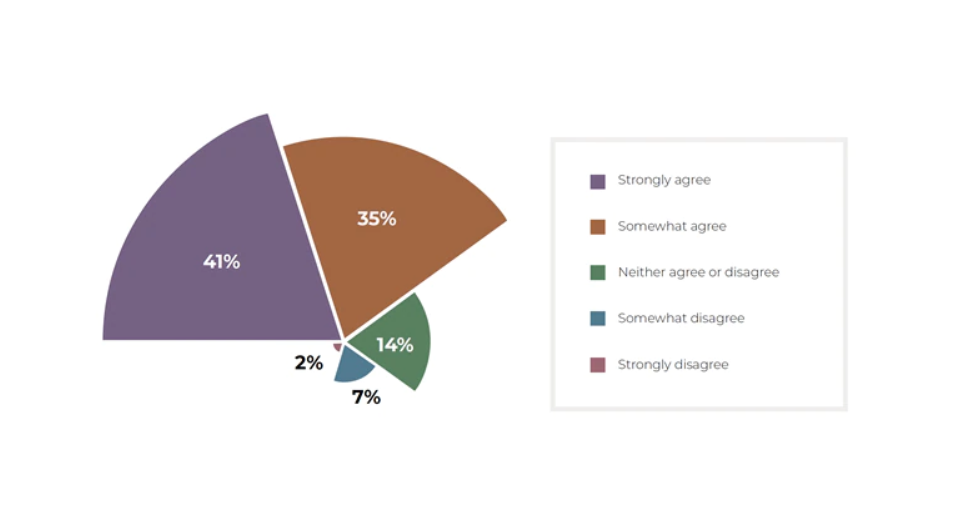 However, a 2019 readership poll by Hotel News Now, a hospitality industry publication owned and operated by CoStar, found that 49% of hotel industry insiders rated the sector's adoption of AI a score of "C" — right in the middle. More than 38% scored the industry below average, and 11% gave it an "F."
With concerns about social distancing and hygiene hounding the industry, we believe that AI will play a critical role in facilitating contactless or virtual transactions. The pandemic has guaranteed that digital capabilities are the way to stay in business, even in a post-pandemic world. And when it comes to driving efficiency and optimising guest service, AI is the way to go.
Essentially, if you don't implement AI technology soon, you'll fall short of guest expectations and also fall behind your competitors. But how can hotels use AI and improve their customer experience?
3 AI use cases in the hospitality industry
You may be picturing the type of AI robot Will Smith would go up against in a Hollywood movie. While robot concierges exist, advancements in AI mean that every hotel can now offer so much more.
1. Enhancing basic customer service
Hotels can use conversational AI to improve customer service by automating communications with guests and answering their queries around the clock. You might do this via a native app or channels that guests are used to, such as Facebook Messenger or WhatsApp.
Marriott International uses AI-powered chatbots on multiple channels, including Facebook Messenger, Slack, WeChat and Google Assistant, to talk to guests before, during and after their stay.
Here's what their customer support chatbot, "Botlr", looks like:
At Futr, our platform offers these capabilities to many different-sized businesses in the hotel industry. Hotel guests can receive instant answers to questions, such as "Where do I park when I arrive at the hotel?" or "Can I get a late check-out in the morning?"
2. Using
Voice

and text-based assistants to facilitate guest requests

Through the use of IoT devices, many lodgings are becoming so-called "smart hotels". SThrough the use of IoT devices, many lodgings are becoming so-called "smart hotels". Smart speakers, native Apps and digital interfaces allow guests to control aspects of the in-room experience, such as lighting and music.

A real-life example is YOTEL's signature Technowall, which guests can connect their devices to and use to customise their surroundings. YOTEL also offers a "pocket-size virtual concierge" app, which guests can use for Bookings, checking in and out, ordering food-to-go and even as their digital key.
3. Guest data collection
AI-driven technology can track guest interactions and behaviours throughout the booking process and the duration of their stay. This allows you to collect large amounts of data about your guests, including demographics and psychographics. By conducting data analysis, you can unlock insights that can be used to enhance your sales efforts or personalise your guest experience.
Booking.com, for example, uses AI to offer personalised recommendations in real-time. You can see it for yourself. Search for a destination, and the next time you view the homepage, you'll see a bunch of offers related to that destination.
The impact of AI software on the hotel industry
Innovations in AI have already had a significant impact on the travel and hospitality industry. Here are just some of the benefits of using AI in hotels:
1. Eradicating language barriers
Imagine having the opportunity to speak to guests in their native language. Thanks to natural language processing chatbots, that's now a real possibility.
2. Improved guest satisfaction
58% of global consumers say customer service is "very important", and 37% say it's "somewhat important" in their choice of or loyalty to a brand.
AI-assisted live chat allows you to take customer service to the next level with quicker response times and increasingly useful responses thanks to machine learning.
Note: Want to turbocharge your customer services team? Sign up and try Futr to generate instant answers to customer queries in over 100 languages.
3. Personalised customer experience
A hotel's reputation depends on the way guests are treated. AI helps you build guest profiles and log personal preferences, meaning you can share the most relevant activities, guides and invites at optimal times.
4. Improved revenue management
In some industries, AI is set to boost revenue by 30%.
Investing in AI has great ROI due to reduced operating costs and increased efficiency. Customer service chatbots, in particular, free up hotel staff to concentrate on bigger, more fruitful tasks. What's more, AI can help you predict consumer patterns, see where guests are dropping out of your sales funnel and spot frictions that act as a barrier to sales.
All in all, AI allows you to delight customers and offer personalised service at scale. With increased customer satisfaction comes an improved reputation and thereby more sales.
Now it's over to you to consider where you can implement AI within your hotel. Are there issues in the running of your business which AI could put an end to?
Get in touch with the Futr team to see how our chatbot and live chatbot platform can optimise your hotel's customer interactions and hotel guest experience. Book a FREE demo today, and we'll take care of the rest. Be sure to follow the Futr blog to get more insights on how automation and digital transformation is changing the hotel industry.