Connect to customers at the right place & time
Futr transfer the conversation from your chatbots to your live customer service agents
When your customers wish to speak to a live agent, Futr will instantly transfer the conversation from your chatbots to your live customer service agents.
Our AI-powered live chat platform quickly escalates complex conversations that need a human touch to your live agents. We'll even auto-translate questions and responses, making your live agents fluent in over 120 languages.
Be there for customers anytime, anywhere and in any language
Engage your customers in real time through live chat in 120 languages — straight out of the box.
Create fixed schedules for your live chat. Revert to chatbots out of hours or create a ticket for the next day.
Talk to your customers on any digital channel, from Your website to WhatsApp and Facebook.
Escalate complex conversations from your chatbots to your live agents seamlessly.
Don't be constrained by seat charging. Spread the load across as many users as fits your organisation.
Government Grade Security
Enjoy end-to-end security architecture with military-grade data encryption in transit and at rest.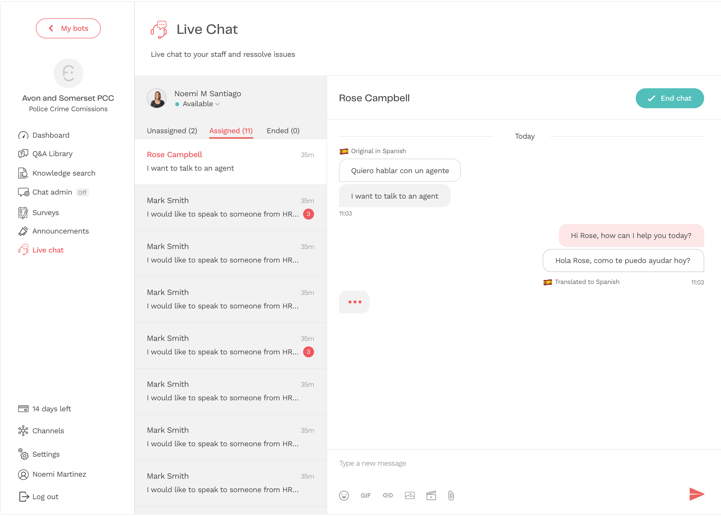 Live chat translation in 120+ languages
Our live chat superpowers will auto-translate queries and responses, making your customer service teams fluent in over 120 languages — instantly.
Let your users chat in whatever language they feel most comfortable and be safe in the knowledge that your live agents can understand them 100%.
improve your knowledge base
Learn from live chat to improve your knowledge base
Add common queries to your knowledge base at the end of each chat to make your chatbots smarter.
Futr's artificial intelligence and machine learning models can learn and evolve as our platform processes more conversations. This improves their knowledge base and reduces the strain on your live agents.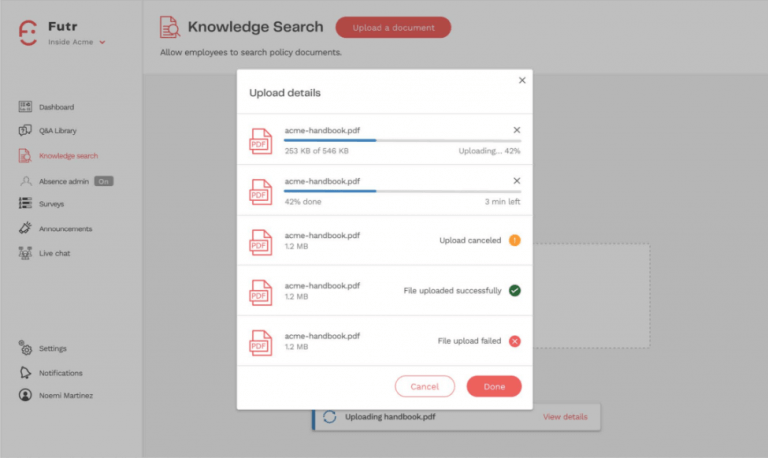 maximise your surveys' value
Use customer chat analytics data to measure engagement
Get invaluable insights into your customers' most pressing concerns and how they're being dealt with. Find out what your customers need and feel based on their most common questions and the keywords they use.
Track usage to the minute and pinpoint time saved and value for money. Explore your data and make fast, data-driven actions to drive efficiency and boost customer engagement.
live chat & chatbot features
Discover our live chat and chatbot features
Data encryption in transit and at rest