Conversational forms powered by chatbots
Customers hate filling in forms — they're time-consuming & inflexible
Transform your completion rates and quality of data by deploying chatbot-powered conversational forms across all your digital channels. Whether you want to capture emails for lead generation or help customers use your services online, make the process easier with conversational customer forms.
Our chatbot-powered conversational forms are available 24/7, helping you keep your customers engaged.
Make filling in forms engaging and convenient
Let your customers complete forms without having to leave the chat. See completion rates skyrocket.
Talk to your customers on any digital channel, from Your website to WhatsApp and Facebook.
Automatically validate and secure your customer data as it comes through the chat and into your systems.
Escalate complex conversations seamlessly to your live agents.
Government Grade Security
Enjoy end-to-end security architecture with military-grade data encryption in transit and at rest.
Make your customer forms available in 120+ languages straight away.
"Our experience engagin with Futr and the support given is on of the best we've ever had."
Ryan Heseltine, Solutions Architect
"Futr's extensive bank of housing-specific questions and industry knowledge really helped us setup the chatbot quickly and very successfully."
Micheal McGeoch, Contact Centre Team Manger
"Over a third of our enquiries via the chatbot have been outside our contact hours. Without Futr, customers wouldn't get the support they needed at the time they needed it."
Warren Brierley, Head of Customer Experience
"Juniper research forecasts that chatbots will be responsible for cost savings of over $8 billion per annum by 2022"
Juniper Research
"This opens up digital channels for the police and the quicker we can do that the better."
Martin Scoble, Chief Executive Officer
"In terms of this doing all the things 101 does today – done. It's what it can add beyond that that is so exciting for crime reporting and investigations."
Simon Clifford, Director of Digital and Data
"COVID has led to our customers not only becoming more receptive to digital engagement, but actively seeking it in place of traditional channels. Futr acts as a key part of our digital offering."
Carol Crathorne, Service Transformation Manager
Conversational forms powered by chatbots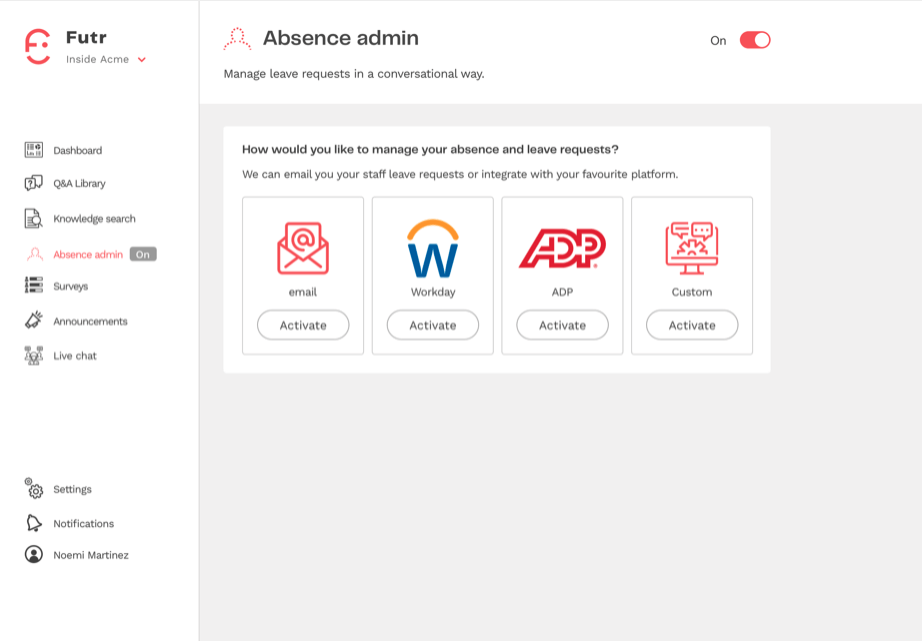 Conversational chat forms
Conversational chat forms on any channel
Empower your customers to complete forms on the go on any channel. With Futr, your conversational forms can help customers:
Apply for something
Report something
Pay for something
Track something
Change something.
Validate data in real time and provide contextual help within the conversation.
multiple back-end systems
Integrate chatbots with your existing tools and systems
Our chatbot and live chat platform integrate with multiple back-end systems to deliver a wide range of conversational forms seamlessly.
Let customers complete their applications and forms quickly and on the go in their preferred chat channel. Futr will also make your customer forms available in over 120 languages instantly.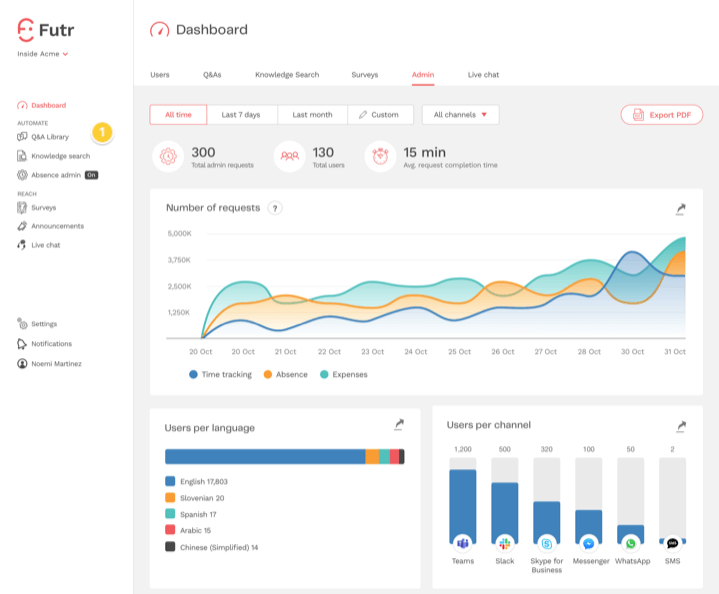 boost customer engagement
Use customer chat analytics data to measure engagement
Use our built-in analytics dashboard to get real insights into how your customers engage with you, when and on what channel.
Track usage to the minute and pinpoint time saved and value for money. Explore your data and make fast, data-driven actions to drive efficiency and boost customer engagement.
live chat & chatbot features
Discover our live chat and chatbot features
Data encryption in transit and at rest