We recently commissioned a survey with Inside Housing to understand where social landlords are in their digital transformation journey. The survey revealed an overall trend towards greater digital adoption, with social landlords looking at ways to improve choice for residents. However, we also uncovered some barriers that are getting in the way.
The lack of digital skills and resource, good quality data, investment as well as resident buy-in, were among the top barriers for social landlords when it comes to digital transformation. In this article, we will look at each of these barriers in more depth as well as how to overcome them.
Lack of digital skills and resource
According to 54% of respondents, the lack of digital skills and resource is a top barrier to digital transformation. For many social housing organisations, existing rigid IT infrastructures can often make digital transformation a cumbersome and challenging process—one requiring digital expertise.
However, most digital transformation plans will have multiple goals—each requiring varying degrees of digital skills. For example, updating internal systems like migrating to the cloud or rolling out a new data management system may be more complex than rolling out an off-the-shelf customer facing comms solution. It may seem contradictory, but digital technology can bridge the gap between digital transformation and the lack of digital skills and resource. Technology has come a long way. There are now intuitive and off-the-shelf solutions which don't require extensive digital skills or resource, that could have an immediate and lasting impact on your residents.
For example, technology which enhances communication between residents and landlords can vastly improve resident experience. Chatbot technology is one way in which you can transform resident communication overnight, without requiring digital expertise. With Futr's plug and play chatbot for example, all you need to do is copy and paste a few lines of code to Your website and you're good to go. By breaking down digital transformation goals into smaller and more achievable steps which don't require extensive digital resource, you can start to reap the benefits much earlier on and kickstart your digital transformation plans.
Lack of good quality/robust data
The survey also revealed that for 49% of respondents, lack of good quality or robust data is a barrier to digital transformation. Existing legacy systems can often make it incredibly difficult to extract meaningful data and insight because many older systems aren't designed to integrate with each other. Different systems in different parts of the organisation can leave data in silos which often makes it difficult for organisations to share the data and intelligence that's being collected across departments.
Upgrading to better and more integrated systems can help social landlords gather good quality data. Many SaaS solutions for example, are capable of integrating with multiple systems—helping social landlords to extract meaningful data easily from a single place.
Futr's chatbot for example overlays existing systems and integrates with your housing management system, giving you an overview of all your key data points. Furthermore, insight the multiple sources of data such as the types of common queries residents are asking, or the times at which they are asking them, can feed into your digital transformation strategy by helping you to prioritise areas of focus.
Lack of investment
The trouble with some digital transformation plans is that there isn't a one size fits all approach to measuring the ROI. If you're motivation and success measures aren't clear from the get-go, it can often feel like you're waiting a while before you start to see the results—making the case for digital transformation weaker. According to the survey, 32% of respondents believe that lack of investment is a top barrier to digital transformation. What can make things worse is that often there is an aversion to risk in the social housing sector, especially where previous transformation plans have failed. However, there are some things that you can do to help remove this barrier and build a case for digital transformation:
Download the Ultimate Guide to Chatbots in Social Housing eBook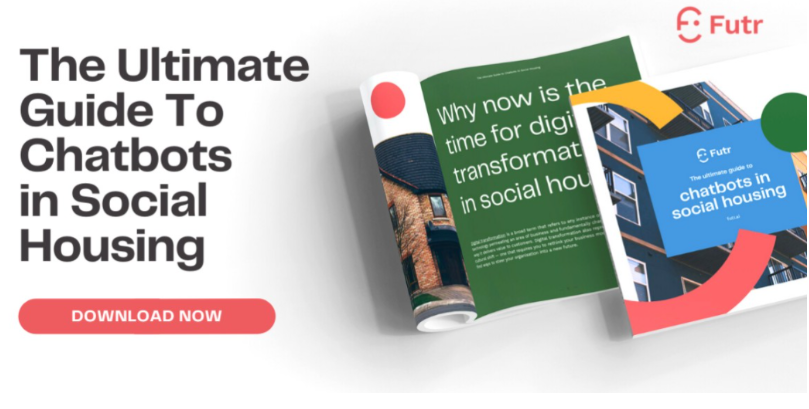 Smaller achievable goals
The scope of digital transformation is very broad so it's important to see where you can make some quick wins. By breaking down what you want to achieve into several smaller goals, you can start you measure the ROI through multiple success measures. This can help you highlight the benefits much earlier on in the digital transformation journey—helping to justify more investment later on.
Different success measures
Secondly, measure different types of success. It's not enough to just measure quantitative results such as a reduction in cost or CSAT scores. Of course, these things are important, but the "softer" side of digital transformation—which can have a huge impact on your residents and staff—shouldn't be discounted. Things such as improving accessibility and reach, uptake of new channels, tenant engagement, wellbeing and workload of staff, as well as qualitative feedback from residents are all important in showing the value of digital transformation. These things combined can help you build a case for other areas of the business.
Levels of investment
Thirdly, digital transformation doesn't have to require a ton of investment. Many organisations will outsource their digital transformation projects or hire someone for a single project—especially when they lack internal resource. This can often be a costly endeavour. We mentioned earlier the importance of shorter term goals. In this context, different transformation goals may require different levels of investment and digital skill. There are some quick win SaaS solutions on the market that are easy on the pocket, quick to deploy, don't require extensive digital expertise and that will help you see the ROI much earlier on.
For example, some of the things which makes Futr a quick win for social landlords is that it is an off-the-shelf plug and play solution. This means landlords can go live overnight with minimal disruption to their staff and residents. Our experience of working with a number of social housing organisations enables landlords to get set up straight away with our existing bank of housing related questions. Once live, landlords can start to uncover insights from real-time data, which, as well as showing you the ROI, evidences the impact that the technology is having on residents and the contact centre team.
Lack of resident buy-in
The final barrier we're going to look at is lack of resident buy in. This was a top barrier for 32% of respondents. To overcome this barrier, it's important to ensure that digital transformation plans are digitally inclusive. The Basic Digital Skills Report estimates that 11.3 million adults in the UK are digitally excluded and 37% of those people live in social housing. Research by Digital Unite also reveals that over 70% of people aged over 55 say being online helps reduces the feeling of isolation and enables them to do things more quickly like paying bills. Why then is there a lack of resident buy in?
Often, overly complex systems or lack of clearly signposted information can leave residents feeling frustrated especially when they can't get instant answers to their questions or speak to someone with the right skill at the right time. Residents need to feel like they have a choice, rather than feeling like things are being done to them. Residents should be able to engage with their landlord in a way that's convenient for them.
Andy Wilkins, CEO of Futr says,
"Whether it's including tenants and board members in demonstrations of the product or including tenant scrutiny panel members and wider tenant groups in product testing pre and post launching, it's essential to make sure that tenants feel as though they are being bought into the journey. With Futr's chatbot technology, our 'always on' dashboards are constantly collecting insight and analytics into the tenant Voice and tenant trends.
"Our best landlord clients pay close attention to these to make sure that the chatbot's content is kept up to date and that exactly what the tenants are coming to the website to ask about is included in the chatbot. Having great content and being ready to answer tenant queries guarantees a great experience for tenants.
"Offering tenant digital lessons is also a great way to include all your residents on the journey."
When you're looking to get buy in from residents, ask yourself the following questions:
What challenges are your residents facing? Is it access to information? Are they having challenges in getting in touch with the right person?
How is this new technology or process helping to solve their problems?
Do you have feedback from residents? Implementing resident feedback helps to take them along the journey with you.
Do you have a clear communication strategy? You need to be able to show your residents how you are solving their common frustrations and what impact the new technology or process will have on their lives.
Do you have the right resources and training to help your residents? Not all of your residents are going to feel optimistic about changes, so it's important to have the necessary resources and training in place to help those residents.
Find out how chatbots are transforming resident experience
Download "The Ultimate Guide to Chatbots in Social Housing" to discover how chatbots can accelerate your digital transformation journey and enhance resident experience and engagement.