Award-winning leadership
Last week, Inside Housing announced the 'Housing Heroes Awards' winners in Manchester.
Off the back of winning 'Employer of the Year', North Star Housing Group's Chief Executive, Angela Lockwood, sat down with Futr's Kitty Hadaway to reflect on a year like no other.
Dean Chaffer, North Star Housing Tenant, from the Doorstep Portrait's series organised by Middlesborough Institute of Modern Art, in partnership with North Star Housing Group
Image credit: Craig McCann
An introduction to Angela and North Star Housing Group
"I've been Chief Executive of North Star Housing Group for 12 years, but I was connected to the organisation before then through its subsidiary, Endeavour Housing Association. I was there first as a Housing Manager and worked my way up via Director, Managing Director and then Deputy Chief Executive before promotion to the Chief Executive role.
"What I love about North Star is that it's a 1974 Housing Association fundamentally, although it's collected a stock transfer on the way. It grew from a real commitment to wanting to do something better for the people of Middlesbrough, with a powerful sense of social purpose imbued in it.
"We're a really pioneering and very ambitious organisation; we were one of the first housing associations to build a women's refuge, that was in 1975; we also created an Asian women's shelter and an Asian elders' scheme. This pioneering and diverse ambition makes our work incredibly interesting.
"As the scale of our business has grown since the 70s, we've retained our sense of social purpose throughout – which I love."
What was the most significant workplace challenge of the past 18 months, and how did you overcome this?
"The most significant challenge of the past 18-months centred around our people. You just couldn't underestimate the impact of the pandemic on all people connected to North Star.
"I knew if we got it right with our staff, the systems and processes we rely on to provide our services would follow. We have prided ourselves on working collaboratively and this was fully tested during the Pandemic and took it to a whole new level. Witnessing the way everyone pulled together was terrific.
"From there, we implemented a new telephony system, which meant our contact centre team had the same ability and functionality working remotely as it did pre-pandemic. We also introduced a new webchat system. We invested significantly in MS Teams. Our sign-ups went digital as we moved to digital lettings. Our repairs process moved into a higher level of digital reporting through phone and photos. And tenant surveying went digital too.
"The processes that we digitised were all massively enhanced and in record time! But, of course, not all tenants would benefit from digital advances within our customer journey.
"So, for our remote and elderly residents, many colleagues rediverted their time to the telephones. We were in contact regularly with every tenant with any kind of vulnerability or isolation issue.
"As a business, we massively funded our local foodbanks and ran deliveries on their behalf – the foodbanks were already there, but they needed money and boots on the ground. Of course, as well as delivering food parcels, we were also out there making sure our tenants had their medical prescriptions.
"Beyond this, we supported small voluntary charities that just needed a bit of petrol money, for example. Also, all of our supported housing services continued as we developed new and different ways of working including digital approaches to maintain essential contact for thos using these services.
"And, driven by everyone in the organisation, we developed an excellent partnership with Middlesbrough Institute of Modern Art. This partnership culminated in a fantastic piece of graffiti art created by them and our younger residents and a photographic series called Doorstep Portraits. These will be compiled in a soon-to-be-published book. It was important to us to drive creative programmes such as this, beyond just the essential services people need."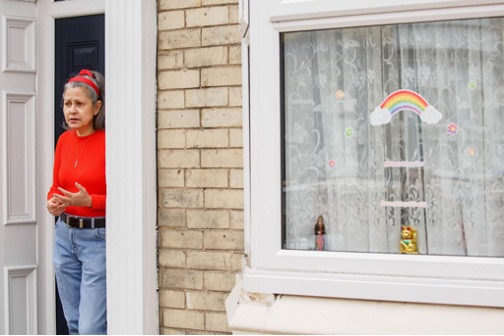 Juliette Menezes, North Star Housing Tenant, from the Doorstep Portrait's series organised by Middlesborough Institute of Modern Art (MIMA), in partnership with North Star Housing Group
Juliette told MIMA, "Seriously, if I won the lottery, I would still live here in my cosy North Star home. I love my home in Middlesbrough."
Image credit: Craig McCann
Related reading: Digital inclusion: A paradigm shift in social housing
How did you adapt your leadership style through the lockdown and shift to remote working?
"I have to say, years of cultural development came good – Covid properly tested our development programmes! Delegated responsibility and high levels of trust became even more critical. It would be tempting to take more control in a crisis, but we were cautious not to shift out of our cultural norms, although, of course, we ramped up communications and some essential direction. But we saw it as critical to not take high levels of control for prolonged periods as this was counter cultural."
Related reading: Why 2021 is the year of digital & self-serve for housing associations and their residents
What would you attribute as critical factors in winning the Employer of the Year award?
"I'd absolutely say that high levels of trust and open dialogue fed into this.
"Mid-pandemic, we had to go for reaccreditation with Investors in People because we're a platinum organisation – in fact, we were the first in the sector to get platinum!
"So, right in the middle of the pandemic, we had to put the Investors in People survey out to our staff. When the survey closed, the results were spectacular. 93% of our team had responded, which shows really high levels of engagement. 100% of staff trusted the organisation's leadership, and 98% of staff said they felt trusted to do their job.
"In fact, the results were so good we actually scored within the top twenty of Platinum employers across the country. But the way we got there is not rocket science. It's about high levels of collaboration and trusting people. Fundamentally you've got to trust the people who work in the organisation because, ultimately, they know what to do."
What are your strategic priorities as we build back towards a new post-pandemic normal in the coming months and years?
"With a lot of trust and conversation, we're going to continue developing agile working but with an open mind. I am a great believer in not making big decisions in the middle of a crisis unless you really must, and we don't know what will emerge in terms of the needs and wants of people yet. So, we remain open to listening and fluid in our approaches. Of course, within this, we need to start exploring strategically what leadership means when staff are agile and what it means for services.
"Certainly, we want to offer our tenants a more tailored service. We're also going to continue our digitisation roadmap. Of course, decarbonisation is also a priority,
"I'd be a fool to predict anything for the wider sector, but I do think that selling net-zero and decarbonisation to our tenants and our communities is going to be challenging, but they're going to be central to reach net zero. So, I think we're going to have to put a lot of effort into getting their buy-in.
"Finally, the Northeast is taking more Afghan refugees than anywhere else in the country, and so it will be a priority for us to consider what this is going to mean for our communities and how we can help support resettlement."
Download the Futr eBook: The ultimate guide to chatbots in social housing
Follow the Spotlight Series of the Futr log to discover how social-housing landlords are using digital technologies to transform the resident experience. Contact Futr to learn how our live chat and housing chatbots are automating the most transactional interactions between housing providers and residents. Book a FREE demo of our platform today.
If you would like to read the latest content on customer experience and digital transformation and get actionable insight from thought leaders, sign up for our monthly newsletter!