The pandemic has highlighted the need for digital inclusion in social housing. But the reality is, calls for change and efficiencies in housing were being made even before the pandemic.
This post was updated in February 2022
Over the past couple of years, we've seen a greater push towards digital inclusion across the social housing sector. A growing number of social landlords across the country are encouraging the use of Internet-based self-service platforms and embracing digital communication, empowering tenants by giving them a Voice.
While this may seem like a new development, calls for housing providers to drive change and efficiency started long before the pandemic. Much of this comes from the fact that the average housing association has several opportunities to move away from dated systems, improve cost efficiencies and enhance digital inclusion with better technology.
What is digital inclusion?
Digital inclusion is the process of ensuring people can use the Internet to perform things that solve their problems. In the context of social housing, digital inclusion means giving tenants the capability to use online methods to reach their landlord and access tenant services.
The UK Government looks at digital inclusion in terms of three dimensions:
Digital skills — This is the knowledge and experience to use computers and Internet-accessible services.
Connectivity — This refers to people having the infrastructure to access the Internet.
Accessibility — This describes how easy it is for all types of users to access online services.
Accessibility is a common barrier for social renters, as many landlords don't have the infrastructure in place to provide their services on digital channels. Fortunately, things are quickly changing.
The Chartered Institute of Housing's Going Digital: Gearing up for the future report found that as early as 2018, housing providers were looking at the viability of embracing digital technologies in their organisation.
While several overlapping factors drive digital innovation in social housing organisations, 79% of social landlords agreed that "realising efficiency through better use of resources" was the top reason to adopt digital technology.
This was followed by meeting customer needs (73%), reducing overall costs (46%), and helping affected tenants maximise their income (i.e., universal credit) so they can pay rent (38%).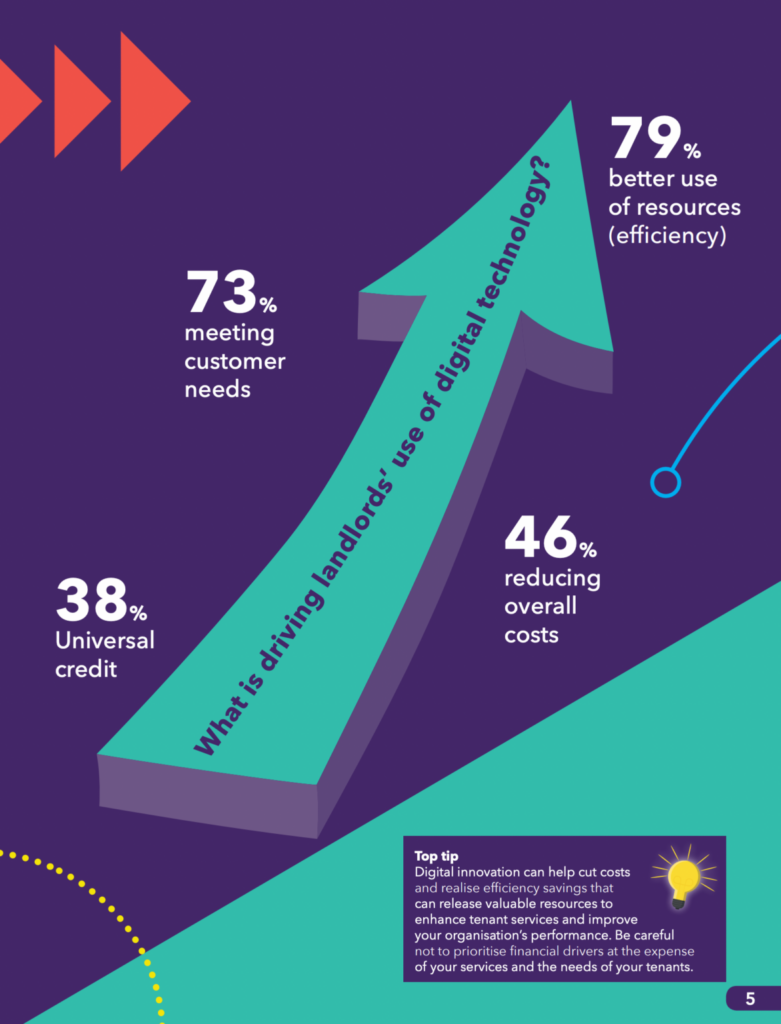 What problems are driving digital changes in social housing?
Nearly one in four landlords believe tech adoption enables them to meet their residents' needs, proving that digital transformation isn't just about the bottom line.
Digital transformation is just one aspect of a larger paradigm shift in housing that emphasises the need to improve the tenant experience and ensure tenants' voices are heard. Preventable social housing disasters— often as a result of tenants being ignored—have led to greater compliance, stricter regulation and a new set of standards to hold landlords to account.
We take a closer look at the factors driving this shift and the role technology plays in overcoming these challenges.
1. Tenants aren't being listened to
After several public scandals and tragedies in social housing, residents are calling for reform, and policymakers are doing more to make social landlords accountable.
In the wake of the devastating Grenfell Tower fire in 2017, the government put the Fire Safety Act 2021 into force to ensure more stringent fire safety measures in buildings with multiple occupiers. Since then, more investigations into social housing failures have revealed that, in many instances, tenants' complaints were being ignored.
Case in point: in April 2021, ITV investigated and reported dangerous and mould-infested flats in Croydon, which several housing experts described as the worst case of mould they had ever seen.
One family had been living in a flat infested with black mould and a gaping hole on the ceiling caused by leaks that hadn't been repaired. The family had also lived without light and electricity in their bathroom for five years. This was despite making several complaints—which were not dealt with or taken seriously.
In August, a woman was crushed by a collapsing ceiling, highlighting yet another shocking social housing failure. This was caused by a leaking ceiling which neighbours had been reporting for the past seven years. One of the neighbours expressed to ITV, "No one is listening. No one cares. It just falls on deaf ears and then it gets to the point where you give up."
It's basic things like not being able to arrange repairs and not having complaints dealt with fairly and in a reasonable time frame, which allows such disasters to happen.
2. Demands for better regulation
The Social Housing White Paper
Since the announcement of the Social Housing White Paper following the Grenfell Tower fire, proposals have been set in motion to make sure social housing tenants are listened to and treated with respect.
The Social Housing White Paper has set out clear standards to hold landlords to account and give tenants more transparency. There's a greater emphasis on health and safety, tenant Voice, performance monitoring and homeownership, as well as an enhanced role for the Housing Ombudsman and The Regulator of Social Housing.
Since the white paper, the Housing Ombudsman has put its new Complaints Handling Code into place, which landlords have to self-assess against. The Ombudsman is also publishing online reports on the complaints handled by each landlord and its outcome. Every quarter, they will publish complaints handling failure orders which name the landlords and reason for failure.
The Regulator is also introducing a four-yearly inspection cycle in which they will review the KPIs, complaints, risks and non-compliance of social landlords.
The Local Digital Declaration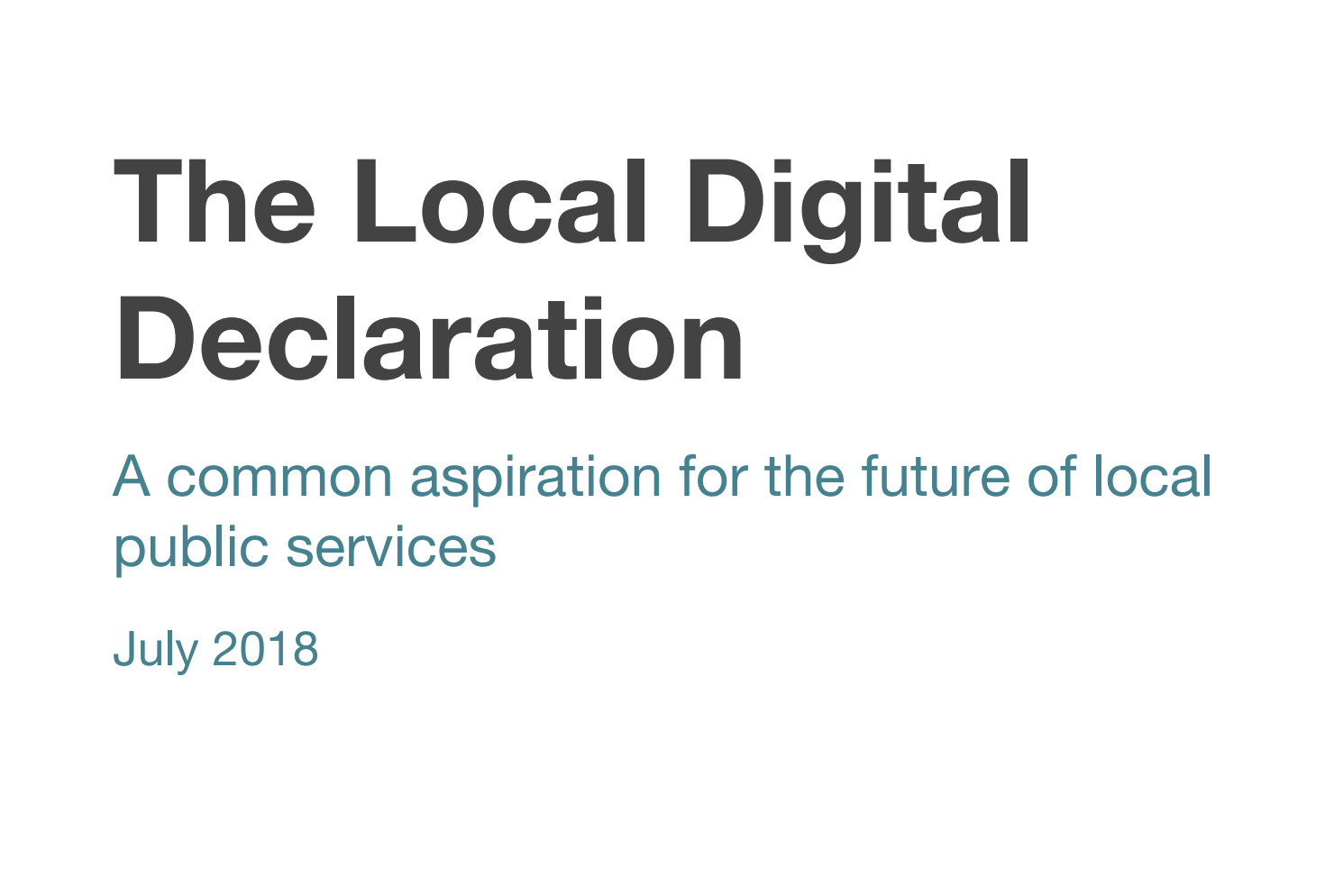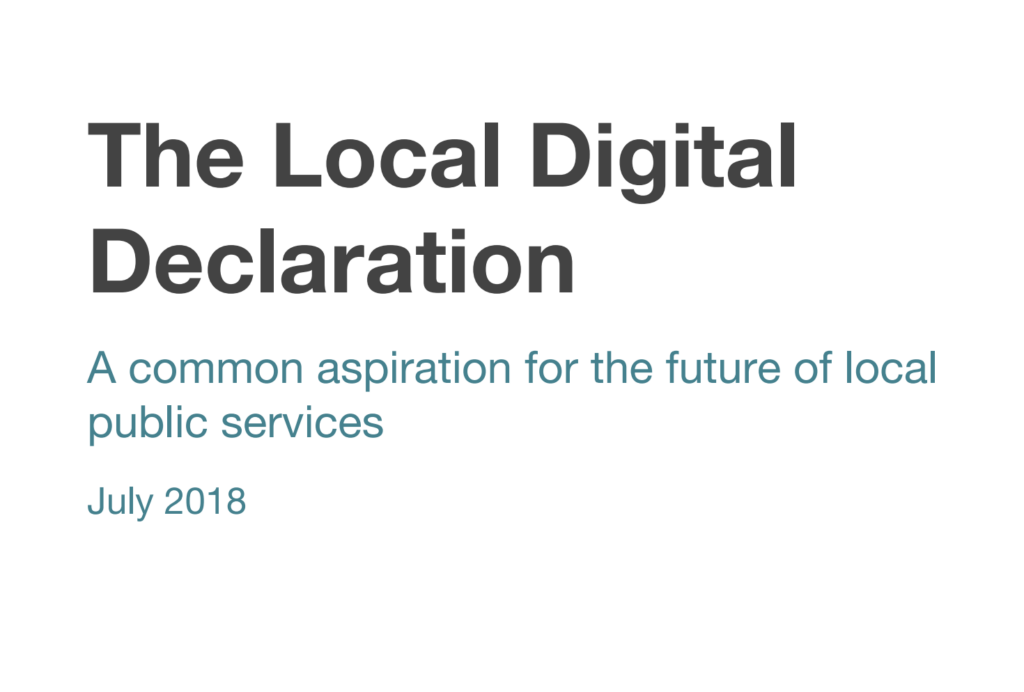 Some of the key deliverables in the white paper are related to how social landlords communicate with tenants. Residents have been told that they should expect their complaints to be dealt with fairly and promptly, treated with respect, have their voices heard by their landlord and know how their landlord is performing.
Digital technology enables social landlords to action the deliverables in the social housing white paper and improve their standards in line with the latest reforms and regulations. With better technology, social landlords can engage more efficiently with tenants and speed up processes around complaints and tenant communication. Technology also makes it easier to provide care to vulnerable members of the community, such as the elderly, who often struggle with social isolation.
In a joint effort to accelerate more efficient processing in the housing sector, local authorities are also signing the government's Local Digital Declaration to raise standards for residents. The declaration was initiated by the UK Ministry of Housing, Communities and Local Government, the Government Digital Service and a group of local authorities and sector bodies. Its purpose is to reshape public services using digital tools and technology to drive transformation.
3. COVID-19: Highlighting stark contrasts between housing associations
Although the rise of digital skills and digital adoption in the housing sector was years in the making, the pandemic created a stark contrast between proactive housing associations and those who were falling behind their digital transformation journeys.
Social landlords that had resident experience at the core of their strategy could respond quickly to the needs of tenants because they had the tools, processes and data to do so — making them more future proof.
However, for social landlords who couldn't digitally adapt quickly enough, the pandemic has been more of a challenge. With a shortage of staff and no change in funding, keeping up with the demand from tenants has been tough. Residents' queries and complaints were not picked up fast enough because of a lack of frontline housing staff, leaving tenants dissatisfied and frustrated.
And even if there are intentions to accelerate digital transformation plans, bottlenecks can often get in the way. Migrating from legacy systems can cause possible long-term disruptions because of existing processes and inflexible infrastructure. Many transformation programmes take as long as five years but landlords cannot afford to wait that long. They need a way to support residents now without causing too much disruption.
How technology is solving challenges in social housing
Thankfully, digital technology can help social landlords mitigate these challenges.
Democratising access to online information and services
Online self-serve solutions are helping to democratise resident access to services and information.
At Futr, our AI-powered chatbot and live chat platform for housing organisations adds a layer of conversational customer service across your housing management system and digital channels, allowing you to do things such as:
Automate answers to your tenants' frequently asked questions.
Signpost to tenant services within the chat and allow users to apply for a home, pay for rent, schedule a repair and report antisocial behaviour.
Make it easier for tenants to file complaints.
By deploying chatbots and live chat on their digital channels, social landlords can solve three problems:
Bypassing the more challenging and time-consuming project of replacing legacy systems.
Pulling out disparate information from different systems to serve to the resident through one channel.
Instantly giving residents an efficient way to get in touch with their landlord and get the answers they need, anytime, anywhere.
Prioritising urgent queries
Contact centre staff in social housing organisations are often overwhelmed with phone calls, many of which are related to transactional and repetitive queries. Self-serve and signposting for things like paying rent or booking repairs can help reduce the burden on staff, enabling them to prioritise urgent enquiries and be there for those tenants with more complex issues.
Empowering frontline housing staff
Other housing associations are taking advantage of multilingual live chat solutions to provide better translation services to those who want to speak to a customer service agent. This empowers customer service agents to respond to more than one query at a time—which is not always possible over the phone. It also ensures a more efficient experience for residents—leaving them more satisfied.
It's now or never for digital inclusion in social housing
Tenants have been demanding better service from their landlords for years. Social housing disasters have highlighted the need for change, and the pandemic has acted as a catalyst for that change. Technology is helping social landlords give a Voice to tenants and improve the standards of their service in line with regulations and guidelines.
So, now is the time to embrace technology and digital channel shift. It's what regulators expect, but most importantly, it's what residents need.
But before you embark on your digital transformation journey, remember that digital innovation isn't just about technology. As Peter Lunio of EPIC Housing explains in a writeup for the National Housing Federation, digital transformation not only changes a housing provider's infrastructure but also changes its culture. Ultimately, the adoption of digital technology is about creating a positive impact on people and their digital skills as well as tenant behaviours.
Learn more about how Futr's chatbot and live chat solution is helping social landlords transform resident experience by getting in touch with the Futr team. Book a FREE demo today, and we'll take care of the rest. Be sure to follow the Futr blog to get more insights on how automation and digital transformation is changing the social housing industry.