Table of contents
Most non-profits are aware of the power of good digital marketing for charities. According to a nationwide study by givingreport.ngo, donating online is the most popular way to give, so launching a great online digital marketing strategy makes sense. But which tools and tactics should a charity include, and what are some common mistakes they might make in their digital marketing strategies?
Digital marketing tactics for non-profits
Digital marketing tactics are the channels and marketing skills used within your strategy. It's likely that most charities will already use them in one form or another. How they are used for charity marketing may be slightly different to how an e-commerce or service-based business might approach digital marketing.
Narrative
A narrative is important with any digital marketing strategy, but it becomes even more integral when your business asks people for donations. Points that a charity should consider when creating a narrative are:
This is why we do what we do
These are the people, animals or communities we serve
This is what we do with the donations we receive
This is what the charity does on a day-to-day basis
These are the people that help us. These may be partners, regular donors donators or volunteers
This ‌inspires us to do what we do every day.
Once a non-profit understands its narrative, it should be able to work out what makes them unique compared to other non-profits. A unique selling point ‌makes any organisation stand apart and allows donors to decide whether a charity resonates with them. The same user may follow two similar charities on social media, but if they can only choose to donate to one of them, their core positioning and what they stand for may be the deciding factor.
Website look and feel
Once a non-profit has decided on its narrative, it should convey this across the website copy.
What is just as important as the website copy is how the website looks. While most websites intend to drive their users towards a goal or call-to-action, this goes double for charity websites that need to inform their users quickly and then drive them toward making donations, whether as a one-off or a regular amount.
Consider the user journey for this kind of website and encourage donations by making the path to a donation an easy one. Place the donate button on the navigation menu and at considered places across the site.
Given the rise in social media, a charity should also ensure that the website is mobile-responsive, allowing donors to make a payment from their mobile devices should they choose to.
Website copy
Content writing is an integral part of your digital strategy. It tells the charity's story and gives information that potential supporters may search for. These website visitors are likely to be at the intent part of the digital marketing funnel.
For example, someone interested in giving blood but is undecided may Google "The side effects of blood donation". This may lead them to the NHS "Give Blood" page, where they can register after finding the information they need. This shows the importance of creating helpful content targeted at someone likely to convert into a donor.
Blog writing
Blog writing is an opportunity for the digital marketing team to detail the issues they care about, tell the story of an event or campaign or person, or direct organic traffic to the website.
The content team should create an SEO strategy, researching the ‌blog content their target audience will search for and ensuring the correct keywords are in place for search engine optimisation. This results in the content appearing in Google search results.
Blog writing may target users at the "awareness" stage of the digital marketing funnel. For example, a charity dedicated to preserving woodlands may create a blog on how to identify birds by their song. The ‌person interested in this type of content is likely to enjoy being in nature and, therefore, could be sympathetic to a charity such as The Woodland Trust.


Social media
According to the same Giving Report, 29% of people consider social media marketing the communication tool that best inspires people to donate. It's little wonder that the third sector finds it a valuable tactic for raising awareness and focuses on it as one of their most helpful marketing channels.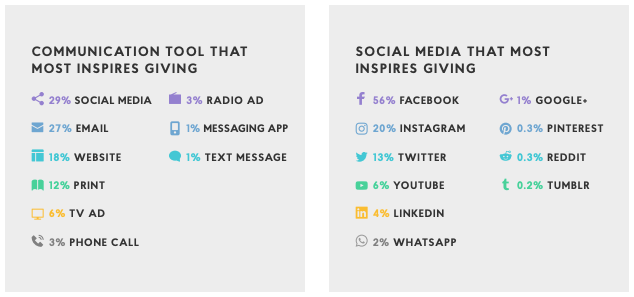 An organisation should use its social media accounts to paint the complete picture of its developed narrative. This should be through a variety of posts that:
Tell the story of the charity
Show its values and what it stands for
Show what's been happening day-to-day with its volunteers, partners and events
Show those who donate the effects of their gifts
Champion the people who are helping the charity.
Social media is a chance to build relationships with potential donors and resonate with an audience who are willingly looking for content to like, share and follow. 
It's likely that a charity already understands which channel works best for them. If they don't, this is step one, as the type of content will depend on this. Facebook and Instagram are excellent platforms to start on, notably, since Meta has launched its Social Impact suite of tools, including a donate button, a safety check-in and sign-up/ registration functionality.
Newsletters
Newsletters are a great way to connect with the potential supporters that have already bought into a charity. These donors are further along the digital marketing funnel and are interested in hearing their chosen charity's latest news and stories.
Not all users will want the same content, so Email marketing is a great way to provide your users with good value. An environmental charity may offer tips on how to reduce your Co2 impact in your day to day life or link out to a blog post detailing the best foods to eat with the lowest environmental impact.
This type of content will create loyal supporters, and the next time they are trying to think of a good cause to donate to, the charity whose emails they look forward to will naturally spring to mind.
The best charity sector digital marketing tools
Just as important as the tactics that an organisation employs are the tools they choose to implement. The more profit a charity can raise, the better it can do for its cause, so it stands to reason to prioritise the tools that will create more support and more donations.
CRM
CRM or Customer Relations Management is a platform that any organisation can use to manage interactions with their users. Often, this includes Email marketing and can also include other forms of communication like telephone and Email.
When selecting one for a non-profit, fundraising campaigns are a consideration, so a charity sector-specific CRM is an excellent place to start.
Salesforce Non-profit Cloud can assist with fundraising efforts, digital marketing, engagement, and grantmaking.
Donorfy is a cost-effective option for smaller charities or ones in growth with handy integrations with tools like Eventbrite, JustGiving, Stripe and social media.
Social media manager
A Facebook page or Instagram feed is an important place to grow awareness and encourage supporters. If your social channels are thriving, then a platform like Buffer or Later will help your social media team streamline your digital strategy into one place. Both have free versions and can scale as your charity does.
Buffer allows you to analyse what's working for your social media, plan your social media posts and respond to users.
Later is an all-in-one platform allowing you to plan, analyse and publish your content from one dashboard.
Chatbots
Chatbots can ease the workload of charity staff and support cashless giving —the most popular way to donate, according to this report by CAF.org.
Building relationships with potential donors in the channel they're in allows them to ask the questions that help them decide whether to donate. If the chatbot can both answer their query and enable them to donate easily, the chances of them making a donation increase. Chatbots like Futr and tawk.to could be a helpful addition to a great marketing strategy.
Futr's intelligent chatbot AI makes it a natural fit for not-for-profits and many charities and public sector organisations have already made Futr their choice. This is thanks to their wide range of omnichannel integrations and auto-translation of over 120 languages. This allows charities to engage potential donors on the channels and in the languages that suit them best. Read more about Futr and non-profits.
Tawk.to is one of the market leaders thanks to its free chatbot platform. This platform allows in-house live agents to monitor and chat with the visitors on a website and enable a knowledge base upload. The best way to use tawk.to is to employ live agents as their chatbot is basic. It's also possible to hire chat agents directly from tawk.to.
Cybersecurity
Cybersecurity is an important factor for charities as they're vulnerable to attacks from cybercriminals. In 2021, Yougov found that a quarter of charities reported security breaches.
Skurio is an excellent option, thanks to their regular work with charities to set up monitoring alerts across the team.
The National Cyber Security Centre provides this free Small Charity Guide on improving cybersecurity quickly and at a low cost.
A fundraising tool
All fundraising campaigns would benefit from a fundraising tool to act as an easy platform to raise funds.
JustGiving is a well-known platform that allows charities to raise more followers by promoting the charity to a wider audience and letting like-minded groups know about similar charities.
Other tools
There are some additional tools that every charity marketing team could use.
An impact reporting tool like Impactasaurus can record an organisation's impact on its beneficiaries. This is a great way to build success stories around real-life data that can feed into blogs, social posts and newsletters.
The Google Suite is a hugely valuable tool for all businesses and offers a Google Workspace for Non-profits for no charge.
Google also offers Google ad grants to non-profits of up to £7,000 per month. This creates Google ads and targets the audience looking for similar non-profits, a great way to discover donors and recruit volunteers.
Amazon Smile allows shoppers to pick a chosen charity that Amazon will donate to as they shop. It costs the shoppers nothing at all, so it's an excellent idea for any charity to sign-up and shout to all of their supporters about it.  
Mistakes to avoid in digital marketing for a non-profit
It would be easy to assume that finding supporters will be straightforward in charity marketing because the organisation is doing something good. A great marketing strategy is vital to start conversations, nurture people and keep people informed with critical information. A few mistakes are easy to make and easy to avoid if you know what to look out for.
Not getting to know your target audience
A charity must never assume to know who its target audience is. They might be able to guess the general demographics. However, doing proper research using surveys and analytics tools can reveal insights about niche groups, where their supporters are most likely to be online and other brands that the supporter likes. This can help make informed decisions about which social media channels to focus on, which brands to partner with and even inform the brand and the tone of Voice.
Not researching competitors
It's easy to assume that because two charities are pulling toward the same end — to do good for their chosen cause, they should not compete. There may be space in the sector for more than one non-profit that supports the same cause. There will likely be a great deal of crossover with their supporters. Researching into competitors will only strengthen the charity's positioning, allowing them to understand what makes them different to a similar charity. The charity may discover that it will benefit them to partner with their competitor.
For example, the Vegan Society supports Veganuary's annual efforts to encourage people to go plant-based for January. This makes sense for both organisations. The Vegan Society, an established brand, will benefit from capturing the hearts of new adopters of veganism, the exact demographic that Veganuary targets. Likewise, having the backing of The Vegan Society gives a newer charity like Veganuary more gravitas.
Forgetting to use the correct call-to-action
A call-to-action is a vital tool when correctly used to target audiences. It's natural to assume that adding the donate button at every opportunity will be helpful. The visitor might not be ready to contribute but is still interested in learning more. Presenting these visitors with a donate button may be a missed opportunity to gain a follower instead.
With every piece of content, refer ‌to the digital marketing funnel and consider which stage the user reading the content may be at. Someone at the awareness part of the funnel may be more willing to sign up for a newsletter or follow an organisation on social media, allowing them to know the charity's goals and build an affinity before choosing to donate.
Being too pushy
Tactics like cold calling or shaming those who choose not to donate are off-putting. Instead, a charity should craft digital marketing campaigns to raise awareness and build a story that resonates. 
Some supporters may have questions before they feel comfortable enough to donate, and organisations should encourage this sort of relationship-building. Directing visitors to a live chat is a great option. Either a chatbot AI will be able to answer their questions directly, or they may choose to speak to a live agent who will be able to answer their questions without them feeling any pressure.