The right charity software can help you engage with the right people and develop fundraising initiatives.

What is charity software?
Charity software means any type of online platform or computer programme used by non-profit professionals to work more efficiently for their organisation. Not all software is designed with charities in mind, but that doesn't mean charities can't use it.
Using software in the right way can help a charity with year-round fundraising, membership management, donor management and even event management.
Examples of charity software
Some common examples of software used by charities are:
How to use charity software to fundraise
Once a charity has established which software is right for them, how can they use it to their best advantage?
The Open Data Project tells us that "67% of non-profits use Customer Relationship Management (CRM) software to track donations and manage communications with supporters and donors".
Fundraising is made easier if the CRM system is designed with the charity sector in mind. Things to consider are:
Is cloud-based donor management needed?
Will marketing automation be required, or will this be a manual process?
What's the size of the organisation?
A good cloud-based CRM should help growing organisations track membership management, donations and prospects. For larger charities it should do all of the above and integrate with existing tools and include features to automate communications and donations. Once a CRM has been selected, there are some ways that non-profit organisations can use it, along with additional software for fundraising management.
Support cashless giving
Statistics have shown that only 7% of donors are now using cash to donate as of 2021, a significant decline since 2019. It makes sense for organisations to make it as easy as possible for supporters to donate online through different approaches.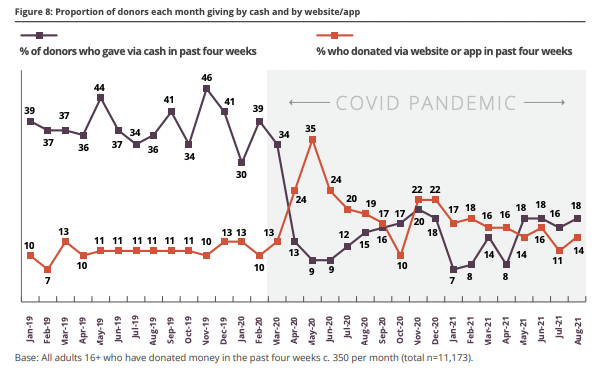 Ensuring a website is user friendly and optimised for both desktop and mobile is an important way to encourage online giving. Planning out a user journey to ensure the donate button is in the right places across the site is a simple way to increase revenue.
Non-profits should consider all the ways that users get in touch outside of a website, and a good CRM should be able to track this. Each communication method should ensure an easy path to donation. For example, if supporters have questions, it's useful to meet them in the channel they usually communicate in, whether Facebook Messenger or WhatsApp. A good chatbot ai can do this and provide an easy way to donate through integrations with Paypal or Stripe.
Promote your in-person events
There's no reason why an online strategy shouldn't support an offline strategy, and the right software can help. An event planning platform can give opportunities to take talks and panel events online, reaching more people, whilst event management platforms like Eventbrite are a great way to sell tickets and promote events to new audiences.
Using Email marketing and social media is a natural way to promote events. Using a social media management tool can save time and ensure messaging is aligned across all channels.
Likewise, running newsletters via a CRM is a great way to monitor sign-ups, and analytics features can help nurture prospects more efficiently and retarget them with campaign-specific updates.

Create a data-led digital marketing strategy
Software for charities should enable both small and growing nonprofits to create a strategy, making informed decisions based on data gathered across a CRM, social media and even a chatbot.
Discovering more about a target audience can uncover niche groups, their donating habits and where they're likely to spend time.
A CRM system like Donorfy can give an at-a-glance view of how much supporters are likely to donate on average and record their interests. This allows charities to craft newsletters appealing to that user type asking for the type of donation they feel most comfortable with or sending them ‌content they find most engaging.
The right chatbot ai can also provide an organisation with useful analytics detailing the most commonly asked questions, which platforms supporters are most likely to use and in which language. This ‌data can be powerful in getting to know the questions that may block potential donors from giving, allowing charities to construct answers that put their minds at ease.
How to use charity software to engage beneficiaries
Charity software is not only helpful for raising funds but also for ensuring the funds raised are getting the best results for the people who need it most. Whilst volunteers can do a fantastic job of person-to-person support, online tools can provide additional methods of communication and a way to build community foundations.
Be creative when involving beneficiaries
There are many ways to reach out and involve the people who benefit from a charity. Whether an event celebrating some ‌wins for the charity or a regular newsletter — although these things may not help discover beneficiary views as well as surveys, feedback forms or interviews.
Organisations may run surveys through their CRM systems via a newsletter. Alternatively, they might choose to run a chat survey through the channels that beneficiaries already use, whether a website, Facebook or WhatsApp. Chatbot surveys are known to have a higher response rate due to their convenience. Futr's chatbot even auto-translates surveys into 120 languages.
Use data and analytics to the best advantage
Charities should ask themselves whether they're speaking to all beneficiaries or just hearing from particular groups. Naturally, some people will be more forthcoming with answering surveys or engaging via a chatbot. There will always be those who, for whatever reason, are less likely to engage, and this may lead to gaps in understanding.
Regular reporting can help close gaps in knowledge and reach out to beneficiaries who are less likely to make their views known, in a way they feel comfortable with.
The analytics tool within a CRM should provide data on how regularly people are engaging with particular channels of communication. It may then make sense to target people who the charity rarely hears from with personalised newsletters or messaging.
Make it safe for beneficiaries to get involved
Some charities handle sensitive conversations and, as a result, sensitive data. So not only is Cybersecurity an important tool for registered charities to consider, but methods of communication are also a consideration.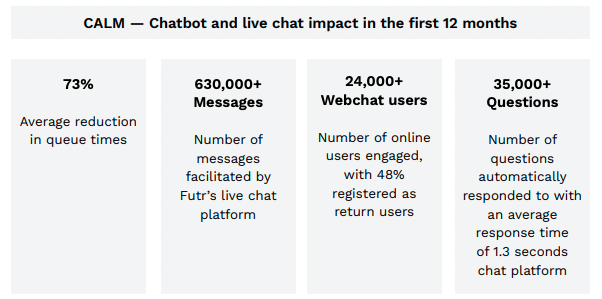 Charities can use a chatbot to their advantage in handling sensitive information. For example, the Campaign Against Living Miserably (CALM), a suicide prevention charity, uses a Futr chatbot to support people in need, lending an ear when they need it most. A chatbot can feel easier to reach out to than picking up a telephone, particularly when the chatbot can be contacted via WhatsApp, SMS or Telegram. Futr's chatbot has around 10 omnichannel integrations, translates into over 120 languages and provides a quick triage to a live agent for those who need it.
With charity software on the rise and digital being more important than ever for everything from donor management, event management and fundraising management, it's important for charities of all shapes and sizes to pick the ones that work hardest for them.
Read Futr's blog on digital marketing for charities in 2022 or discover how Futr works closely with non-profit organisations to support their fundraising goals through communications channels with beneficiaries. Find out more.