Emerging technologies such as chatbots and automation are driving digital transformation in housing associations. But how are they doing it?
This post was updated in August 2021
Technology is the great disrupter.
In less than a decade, tech companies such as Uber, Deliveroo, Netflix and Airbnb, among many others, have disrupted entire industries that had remained unchanged for decades. This wave of digital transformation isn't slowing down any time soon — so long as digital technology continues to evolve, so too will consumer preferences and habits.
What is digital transformation?
Digital transformation is a broad term that refers to any instance of a digital technology/ies permeating any area of business and fundamentally changing its ability to operate and deliver value to customers. Digital transformation is also a cultural shift — one that requires organisations to rethink their business models and find ways to steer themselves into a new future.
A growing number of organisations are finally taking notice of this trend.
Research by global consultancy firm Capgemini shows 87% of businesses believe that digital transformation provides opportunities to gain a competitive advantage in the market.
The use cases for new technologies such as artificial intelligence (AI) and data analytics have even made their way into more niche markets such as the social housing sector. Housing associations are now providing a growing array of new digital services and newly digitised solutions to residents.
In this article, we delve into the real-world examples of tech changing the social housing sector and what lessons can be learned.
How technology is transforming the housing sector
When it comes to housing, digital transformation is manifesting itself in six ways.
1. Virtual viewings
The COVID-19 crisis has introduced another layer of complexity to the already challenging process of viewing properties to buy or rent.
Related reading: Bolton at Home: Kickstarting a digital transformation journey
Property sites like Rightmove have adapted to social distancing guidelines by introducing virtual tours, which have seen a massive increase in 2020. Over 10 thousand property agents on Rightmove have added the "Online Viewing" option to their property listings.

But virtual tours are a mere entrée.
Thames Valley Housing, a housing provider that owns and manages 15 thousand homes, has created virtual reality versions of their new homes, which prospective tenants can take a virtual tour of on a digital screen. These tours are either videos with commentary or a 360-degree view of the property, where users simply pan and scroll to see what the place looks like.
"Virtual reality versions of our new homes help us ensure that we're confident we can carry on building … we've got the ability to sell people into that idea quite early on," said Kush Rawal, Thames Valley Housing Commercial Director.
2. Affordability checks
One of the first things prospective homeowners want to know is whether they can even afford a home.
Thames Valley has also partnered with MetroFinance to introduce a chatbot to their website to expedite the affordability check process. The bot allows customers to go online, enter their information and find out in minutes whether or not the headline affordability is there.
Rawal explains the chatbot offers users a rapid view of whether or not a property meets their budget. It also saves Thames Valley's employees from going through the tedious process of manually checking applications for homes.
3. Repairs and maintenance
We've spoken to the UK's leading housing providers and asked them specifically what their customers' main pain points are.
Right at the top of the list is the question: "How do I book a repair?"
After its customer satisfaction levels dipped in 2018 due to resident issues with repairs and maintenance services, Notting Hill Genesis (NHG) deployed a new digital platform called WorkWise, which allows residents to self-serve for queries and transactions such as reporting repairs and checking their rent balance.
The investment helped NHG beat their target customer satisfaction rate of 65% for 2019/2020 by 3.5 percentage points.
Related reading: Westward Housing Group: Giving choice to residents
NHG is also working with SaaS platform Plentific to develop an online marketplace platform that provides tenants with a quick and seamless way to log faults and find contractors at a competitive price.
This "Uber of repairs" helps customers source local repairs and maintenance contractors who have already been screened and vetted, like a private Ratedpeople.com of sorts.
With Plentific's help, 91% of repairs were completed first-time. These benefits also extend to NHG's workforce, as the system provides NHG teams with a clear view of costs at all times.
4. Predictive analytics
Digital transformation starts with customer experience, and while a platform for reporting faults and finding contractors is great, it's even better if those issues don't happen in the first place.
This is where predictive analytics helps. Despite the technical name, predictive analytics simply means using data to preempt issues before they happen.
For example, predictive analytics can inform you when a lift is likely to break down next by looking at past maintenance/service reports and combining them with vendor data (e.g., recommended servicing intervals). This helps enable the housing provider to fix the lift before anyone gets stranded on the 15th floor. The same setup can be applied to another common tenant problem — boiler failures.
Using artificial intelligence, predictive analytics systems can even predict who is not likely to pay their rent, allowing social housing providers to intervene with assistance before a tenant gets into rent arrears.
5. Field management
Technology providers like Propeller are also helping housing associations manage contractors and drive efficiencies and compliance across an entire housing stock.
According to Propeller Operations Manager Dave Wilson, "It's been a natural progression for us as with a lot of housing associations, we've worked with them through their contractors over the years, and what we've found is that a lot of housing associations have a massive impulse now to really get an overview of how compliant they are."
6. Automation through chatbots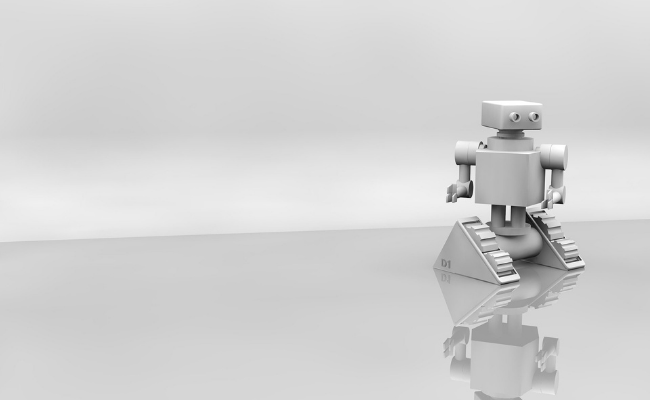 AI automation is also making in-roads into the housing sector.
As a live chat and chatbot specialist, the automation of live chat support for the housing sector is of particular interest to us here at Futr.
On average, housing associations have contact centre teams of around 15-20 people, who often field questions that are highly transactional and, in many cases, highly repetitive.
So how could a chatbot help housing associations contact centre teams?
Well, there are broadly two types of chatbots to deal with this:
The first is a "button style" or "scripted" bot where users click through a series of preconfigured questions and answers. While these bots can be effective if done correctly, setting them up in a housing association is often a painstaking experience as they may end up second-guessing everything a tenant may want to know about.
The second type is an "NLP-enabled" chatbot (NLP stands for natural language processing) that uses AI to do all the heavy lifting, decipher the question's intent, and serve back the appropriate answer.
Related reading: Futr speaks at Housing Digital Social on how self-serve tools are supercharging customer experience
Here at Futr, we have deep domain knowledge in the housing sector. We have a bank of over 1 thousand frequently asked questions asked by housing association tenants, which forms the basis for our NLP knowledge base.
We marry this with a "scripted" bot flow of "button-driven" themes covering the top frequently asked questions. This gives tenants the speed to access their top issues quickly and efficiently and the breadth of data to cover the most particular of queries.
You can see an example of one of our bots at work on the homepage of Believe Housing.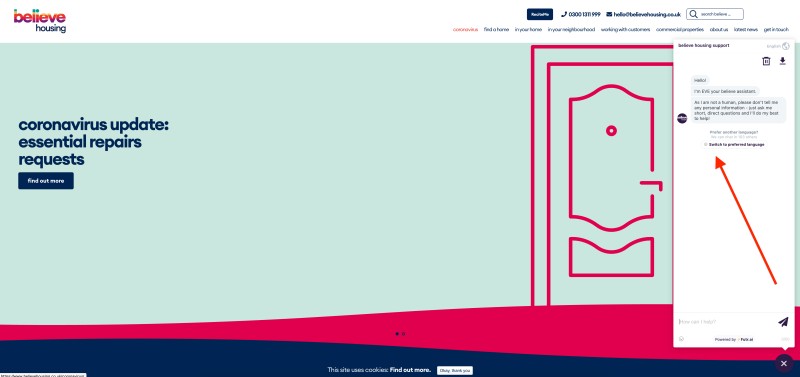 If necessary, the bot can escalate a complex query and hand over the conversation to a live agent. This is a missing feature in many chatbot deployments, with Forrester noting that 60% of chatbots in 2019 had poor escalation paths to live agents.
Chatbots are great news for customer support agents as well as customers. According to Believe Housing, the take up has been promising: "Tenants are willing to adopt more technologies, they also prefer the service."
Now is the time to embrace digital transformation in housing
Digital transformation is happening at an incredible pace in the housing sector, and forward-thinking housing associations that take full advantage will be tomorrow's winners.
As customer expectations change, the organisations that embrace technology will be better positioned to provide excellent customer service. Because word of mouth matters so much in housing (neighbours do like to talk!), your customers could be your next brand advocates.
Be sure to follow the Futr blog for more insights on digital transformation in housing associations.
Download eBook
Download our eBook on "The Ultimate Guide to Chatbots in Social Housing" to learn more about how chatbots can help accelerate digital transformation.