The accessibility of artificial intelligence and natural language processing has made live chat automation a practical solution for frontline customer service agents, freeing them from repetitive, time-consuming tasks.
This post was updated in December 2021
If you have customers or stakeholders that rely on your organisation, it's likely that live chat is already a crucial part of your customer service experience. After all, today's customers expect companies and brands to be available across a wide range of chat-based channels, such as Facebook Messenger, WhatsApp or Telegram. Data from Statista shows that global customer satisfaction with live chat usage was at its highest in 2020 since 2015.
Meanwhile, a 2020 pre-pandemic survey from UJET found that 72% of customers said having the ability to text with a live agent in real-time would "improve their overall customer service experience."
But traditional live chat is only as good as the availability of your customer support team. In other words: What happens outside of business hours?
Unless you're a large enterprise or have sufficient resources at your disposal, it's unlikely that you'll have an in-house or outsourced team of customer service agents.
If you're in charge of customer support for a housing association and a resident reports a leak at 2 AM, who is there to respond?
In many cases, nobody does. The customer has to wait until the next day, frustrated. This can have serious consequences for critical services like housing, emergency care or law enforcement. And even in sectors like retail and sales, the absence of 24/7 customer support can lead to a loss of interest among potential customers.
In today's borderless and online-first world, companies need to be there for their customers day and night. But how is this practical without running your employees ragged or increasing your contact centre budget?
The answer may lie in live chat automation.
What is live chat automation?
According to IBM: "Automation is a term for technology applications where human input is minimized. This includes business process automation (BPA), IT automation, personal applications such as home automation and more."
In the context of chat-based communications, live chat automation involves engaging users with automated responses to their frequently asked questions. This is typically done using chatbots — live chat software powered by artificial intelligence (AI), machine learning and natural language processing (NLP), among other technologies.
Chatbots are designed to imitate and process human conversations on websites, Apps, messaging services like Facebook Messenger and WhatsApp, and even regular SMS services. They automate customer service engagement and act as your organisation's "front of house," fielding questions before they even get to a flesh and bones member of your staff.
What are the benefits of live chat automation?
Chatbots don't just provide canned responses to customer queries. There are chatbot automations that can generate leads, increase sales and improve the overall customer experience.
Sounds like science fiction? Not at all. Chatbots generate incredible results for many organisations of all sizes, so much so that Mordor Intelligence predicts the chatbot market to reach $102.29 billion in value by 2026.
Here's a closer look at the benefits chatbots bring to the table.
1. Self-service through chat
Take a portion of live chat conversations and analyse their content and you'll find that a significant number of question and answer exchanges with customers revolve around a handful of topics.
In the retail industry, these topics typically cover issues such as:
Shipping and order tracking
Payments
Warranty
In-stock and out-of-stock queries
Product/service features
Complaints
There might be variations in wording and phrasing, but customers' questions tend to focus on the same few things. Chatbots allow you to take these common queries and link them to a knowledge base of resources and services. A customer simply has to ask the "live agent" a question and the chatbot will signpost them to the information they need.

This process is called self-service, a user experience (UX) feature that enables users to complete an action without human intervention. For example, believe housing, one of the largest housing associations in North East England, uses a chatbot to signpost residents to their services and resources.
Related reading: Dive into our believe housing case study
Data from Gartner shows that 70% of customers use self-service channels at some point in their problem-resolution journey. However, only 9% successfully use self-service to resolve their issues completely.
This is indicative of how the self-service experience can sometimes leave users wanting. Chatbots solve this problem by bringing task resolution directly into the conversation. For instance, at Futr, our chatbots enable users to:
Report something;
Pay for something;
Track something; and
Follow up on something, all without leaving the chat window or conversation.
2. Natural interactions that don't alienate customers
Chatbots have come a long way since only providing dry and robotic canned responses to questions. Today's conversational interfaces use NLP to engage customers using natural language — think of virtual assistants like Alexa or Siri.
Natural interactions ensure that customers receive the same answer had it been a person working chat. "Behind the scenes," a chatbot processes messages and provides relevant replies, just as an actual human would. This helps create a more authentic customer experience that makes everyone — especially those that don't understand how chatbots work — feel at ease.
3. More time for customer service agents
Chatbots often get a bad rap for being a threat to humans, particularly customer service teams. But these fears are overblown as AI still has a very long way to go before it can completely mimic human speech with 100% accuracy. Even the best chatbot platforms still rely on rule-based systems when providing answers to queries.
However, what chatbots are good at is creating time for your customer service agents.
Answering the same questions day in and day out is not only a time suck on your staff's time; it can be tedious and mundane. Live chat automation frees your team from addressing these routine questions, keeping them fresh for customer concerns that require a more personal touch.
4. Instant automated messages
Customers hate having to sit in a call queue just to ask something that should take five minutes to resolve — think changing direct debit details or reporting a discrepancy in their billing statement. Similarly, your contact centre team may be frustrated with the experience of answering the same set of questions ad nauseam.
Chatbots fix this problem by providing instant automated messages to your customers' common queries. This is particularly important in today's world of instant messaging, where customers expect immediate responses from brands and companies.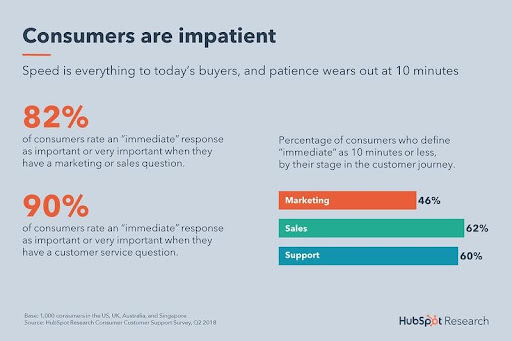 HubSpot research shows that the vast majority of consumers expect immediate responses to their questions; 82% expect an immediate answer for sales or marketing questions, while 90% expect the same with customer service queries. What's more, these customers expect an "immediate" response to take 10 minutes or less.
5. Make each customer service agent multilingual
How many languages does your team of call handlers speak? If you're lucky, you'll probably have a handful of languages covered. If you're a large organisation with stakeholders that speak different languages, you're probably using a language translation service like LanguageLine.
But with chatbots, you can automatically translate queries and responses, allowing your customers and live agents to seamlessly communicate in their preferred language. At Futr, our chatbot and live chat platform supports over 100 languages, allowing you to create a more inclusive customer experience.
6. Understanding intent and phrasing
This brings us to intent and phrasing. Two people can speak the same language but use entirely different phrasing, colloquialisms, broken sentences and even slang to express themselves.
Chatbots can be multilingual, but they can also be adept at understanding the nuances of language. A chatbot's machine learning algorithms can learn from every conversation it processes, allowing it to increase its knowledge of words and phrases.
Depending on the sophistication of its algorithms, a chatbot can even engage customers with the same tone of Voice and slang they use.
7. Automate escalation to live agents
As great as they are, chatbots still have a limited database of responses to questions. There will be times when a customer needs a more human touch.
Enter one of the most essential uses of chatbots: triage.
Your chatbots can function as your "catch-all" front of house service — sort of like a receptionist in a hotel that answers questions like:
What time is dinner? "8 pm".
Where is the nearest restroom? "First door on the left".
I'd like to make a complaint about room service. "Sorry to hear that, let me get the hotel manager for you".
In all but the last example, the receptionist deals with the question. The first two questions are ones that most people ask, so answering them is easy. Only the last one requires escalation.
The exact same thing happens in automated live chat.
Chatbots filter urgent concerns and help escalate complex conversations to your live agent teams quickly. You can even hand over customers asking about your products or services to your sales team, streamlining your lead generation efforts.
8. Generate real-time, actionable data
Chatbot platforms also come with a built-in analytics backend that lets you mine valuable insights about your customer's habits, pain points, preferences and needs. Every conversation your chatbots process presents an opportunity to understand your customers more and find ways to improve their experience.
For example, if the keyword "payment options" keeps coming up in conversations, this could be a signal that your customers want more payment options than the ones you're currently offering – they might even identify these options for you.
Data like this has traditionally been hard to capture with a traditional call centre setup. But with chatbots, everything you need to know is presented to you in a tidy dashboard.
9. Reduction of contact centre costs
Bringing it all together
Far from being a threat to your workforce, chatbots complement your customer service teams and alleviate a lot of the routine work they do, making life easier for them and your customers. But live chat automation is not a magic bullet, and its success largely depends on proper implementation. If you're planning to roll out chatbots across your digital channels, be sure to work with a provider that understands your needs.
Get in touch with the Futr team to see how our chatbot and live chatbot platform can streamline your customer service processes. Book a FREE demo today, and we'll take care of the rest. Be sure to follow the Futr blog to get more insights on how automation and digital transformation is changing the landscape of customer service.