Chatbots for housing associations have the potential to reshape an entire industry through automation and conversational AI. Here's what to expect from this paradigm shift.
The Addison Act of 1919 introduced subsidising housing and making it affordable to those who need help the most. With national fervour high following the end of the First World War, Parliament set the ambitious target of financing the construction of 500,000 homes in just three years.
Fast forward to today, approximately 3.98 million households across the country in 2020 are socially renting — the highest number since 2000.
With so many residents depending on social housing services, councils and housing associations are constantly under pressure to balance political challenges, economic conditions, and residents' changing needs.
But there may be one solution to fixing some of these problems: digital transformation.
Digital transformation amid the pandemic — bringing resident services online
In a previous blog post, we talked about how technologies such as artificial intelligence (AI) and digital automation are driving sweeping changes in the world of social housing. The pandemic has accelerated this paradigm shift, driving residents to seek housing services online.
Earlier this year, Futr's UK Housing expert, Kitty Hadaway, spoke at a Housing Digital Social to reflect on the pandemic's effect on digital transformation and the new opportunities social landlords can leverage to address the needs of their residents.
You can watch the video below for the full Housing Digital Social segment. But Kitty presented two key takeaways:
When push comes to shove, housing associations are capable of agile working and providing resident services online — as demonstrated by the 56% of social landlords reporting that their work is now done online due to COVID-19.
Residents have also become more digitally native. And with that comes higher expectations for online services.
"Landlords and tenants are experiencing a once in a decade paradigm shift."

Kitty Hadaway, Futr UK Housing Lead
However, digital transformation is a broad topic that encompasses processes, employees, supply chains and more. Housing associations should focus on digital transformation projects that deliver the best return on investment.
This is where chatbots come in.
Chatbots offer a quick and relatively painless way to connect social renters with your online resident services. Powered by conversational AI, chatbots use natural language to automatically answer your residents' most frequently asked questions (FAQs) — 24/7 and on all your digital channels.
But when implemented correctly, chatbots do so much more than automate your customer service. Here's a closer look at why chatbots are a potential game-changer for housing associations and social renters.
Enabling self-serve, day and night
Self-serve is a user experience (UX) feature that allows customers to complete an action or task without assistance from a customer service agent. At Futr, we use chatbots to provide users with a list of services and answers to FAQs within the chat.
In the context of social housing, these services can include:
Submitting a tenant application
Paying for rent
Filing a complaint
Scheduling an appointment for repairs
Reporting antisocial behaviour.
Self-serve features also provide much-needed relief for live agent teams. They enable your customer support teams to spend less time on repetitive queries and focus more on complex conversations that need your attention. In fact, 67% of customers prefer using self-service options over speaking with a live agent.
"Self-serve tools are the key," explains Kitty. "They are perfect for freeing up your customer support colleagues to work on more complex issues – because this isn't about taking away existing services like the phones, but instead giving your residents more choice on how they engage with you."
Providing instant multilingual support
According to the Migration Observatory at the University of Oxford, 14% of the UK's population, or approximately 9.5 million people, were born outside the UK — and many of them may not speak English as a first language.
Many housing associations use third-party services like Mission Translate and Absolute Interpreting and Translation to engage residents in the language they're most comfortable using. However, this can present cost challenges that may not be sustainable in the long run.
Chatbots present a more practical alternative.
Chatbots can automatically translate questions and responses in different ways using conversational AI and multi-language APIs, helping your resident services be more accessible.
For example, EVE, believe housing's website chatbot, allows residents to switch to their preferred language.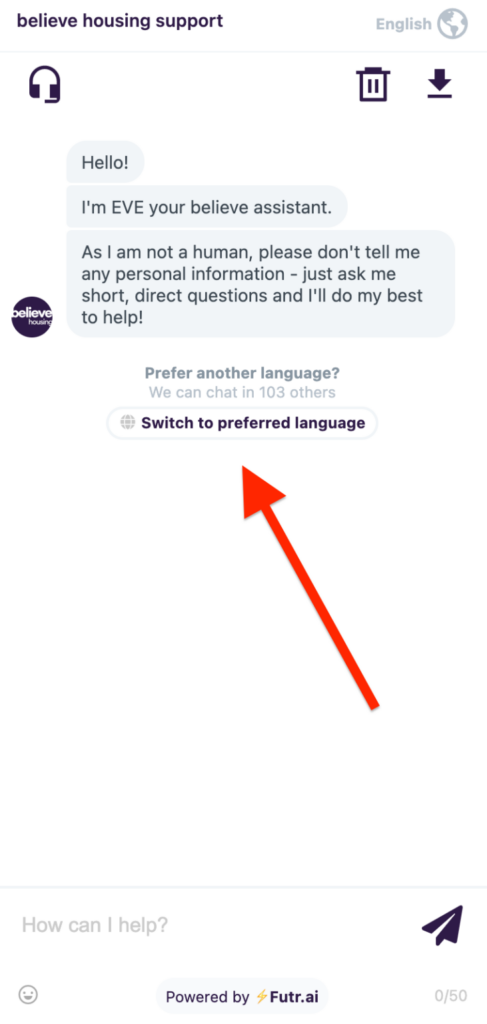 More importantly, chatbots provide this feature at scale — you don't have to increase your staff count to accommodate more resident queries and service requests.
Automatically collect feedback at scale
Most housing associations we work with have contact centre teams of around 15-20 people, who often have to field repetitive and time-consuming questions. This leaves little time for other tasks, such as collecting resident feedback.
But as anyone working in customer service will tell you, feedback is the lifeblood of any organisation. It fuels business intelligence, which, in turn, enables you to improve your customer experience.
Chatbots offer a convenient way to collect resident feedback — at a scale and rate far more efficient than traditional phone or Email surveys. At Futr, our chatbots can survey your customers within the chat. You can create personalised surveys from scratch or choose from our templates such as:
Resident satisfaction
Repairs feedback
Website feedback
Volunteer feedback.
Chatbot best practices for housing associations
Not all chatbots are built and deployed equally. Remember these best practices when using chatbots to engage your residents.
Provide paths to escalate conversations to live agents: Chatbots' frequent criticisms are that they make it difficult for users to get in touch with a live agent. Forrester notes that 60% of chatbots in 2019 had poor escalation paths to live agents.
Keep messages short: As a communication platform, chat lends itself to short bursts of messages. The last thing your residents want is to ask a chatbot a quick question or two, only to be greeted with walls of text. If you need to provide more information about your services, let chatbots signpost users to relevant internal or third-party resources.
Offer self-serve options: Use chatbots to deliver useful self-service features instead of just answers to FAQs. With the right integrations, chatbots can help residents pay rent, report antisocial behaviour and book repairs — all without leaving the chat.
Over to you
In many ways, chatbots represent a quick win for housing associations. They offer a cost-effective and relatively quick way to improve the resident experience at scale and make life easier for your customer support teams. Groups like Ongo, Bolton at Home and believe housing are already seeing positive results.
According to believe housing, "Tenants are willing to adopt more technologies, they also prefer the service."
Be sure to read the Futr blog for more insights on chatbots for housing associations. You can also get in touch with the Futr team and schedule a FREE demo of our automated chatbot and live chat solutions.