Chatbots are transforming the way businesses and brands market themselves. In this guide, we go over four chatbot marketing examples and use cases to use as benchmarks.
This post was updated in December 2021
Many businesses, particularly in the retail sector, often look at chatbots only as automated solutions for customer support. While it is true that the ability to automate customer communication is a huge part of their draw, chatbots bring so much more to the table.
For starters, chatbots can supercharge your digital marketing strategy, streamline your lead generation efforts and even increase sales. It all has to do with a critical benefit that chatbots offer: convenience.

According to research by Forrester Research and Google, 68% of consumers are more likely to purchase from brands that provide convenient communications. For most customers today, that usually means communication on digital platforms. In fact, the same study found that since the start of the pandemic, 34% of consumers reported completing more transactions online than ever before.
Chatbots enter your marketing mix by integrating artificial intelligence (AI), machine learning and natural language processing (NLP) into your live chat channels.
But what exactly do they have to offer to your marketing teams?
Chatbot marketing explained in 100 words
Chatbot marketing is a method of promoting your product or service using chatbots — computer programs designed to imitate and process human conversations on websites, Apps, messaging platforms and even SMS. Chatbots leverage conversational marketing to talk to users, find out what they need and, ultimately, nurture them into becoming leads and sales.
Chatbot marketing lets you optimise your brand's live chat channels and engage customers with 24/7 support, timely and relevant offers and even in-chat transactions — all without requiring the intervention of your live agents and marketing teams.
What are the benefits of chatbot marketing?
Chatbot marketing isn't about reinventing the wheel — rather, it's about enhancing the live chat experience. Here's a closer look at the core benefits of using a chatbot marketing strategy.
1. Automating interactions on your marketing channels
We know that customers love live chat. Research by eMarketer in 2009 found 63% of online consumers are more likely to return to a website that offers live chat.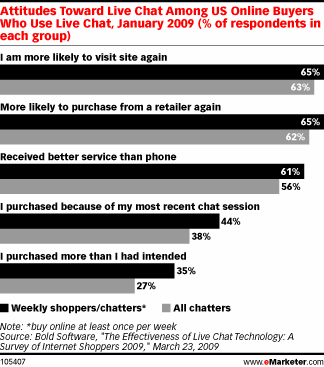 By programming responses to common customer queries and automatically signposting to your products and offers, chatbots can improve customer engagement day and night. This frees your marketing or sales team from handling routine tasks, allowing them to focus on your overall marketing strategy.
2. Swift responses to customer queries
Better, faster and more efficient — these are things customers expect when communicating with brands. According to research by HubSpot, speed is everything to today's consumers, with 82% rating an "immediate response" to be important or very important when it comes to marketing or sales questions. Additionally, 62% of consumers in the sales stage of their customer journey consider an "immediate response" to be 10 minutes or less.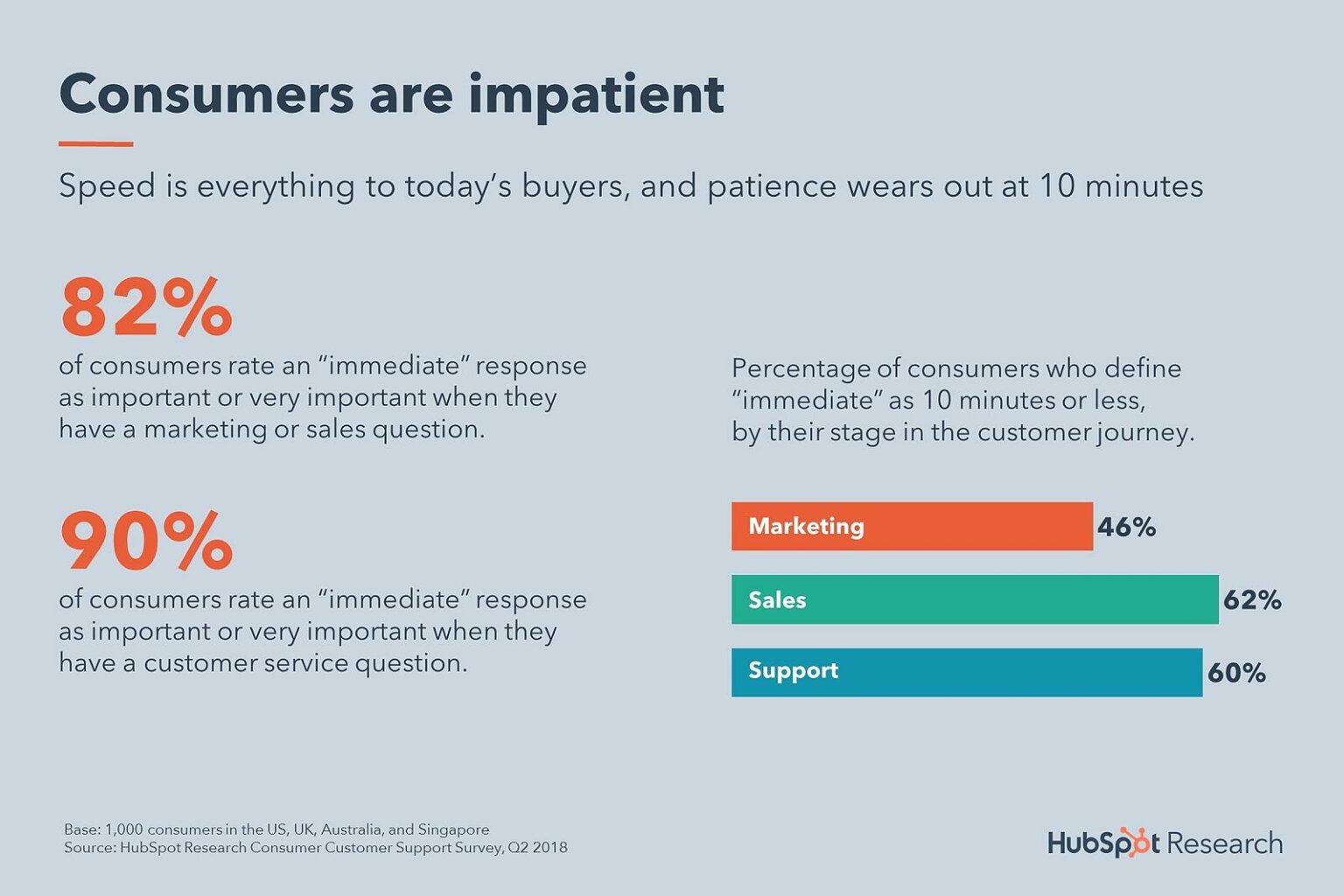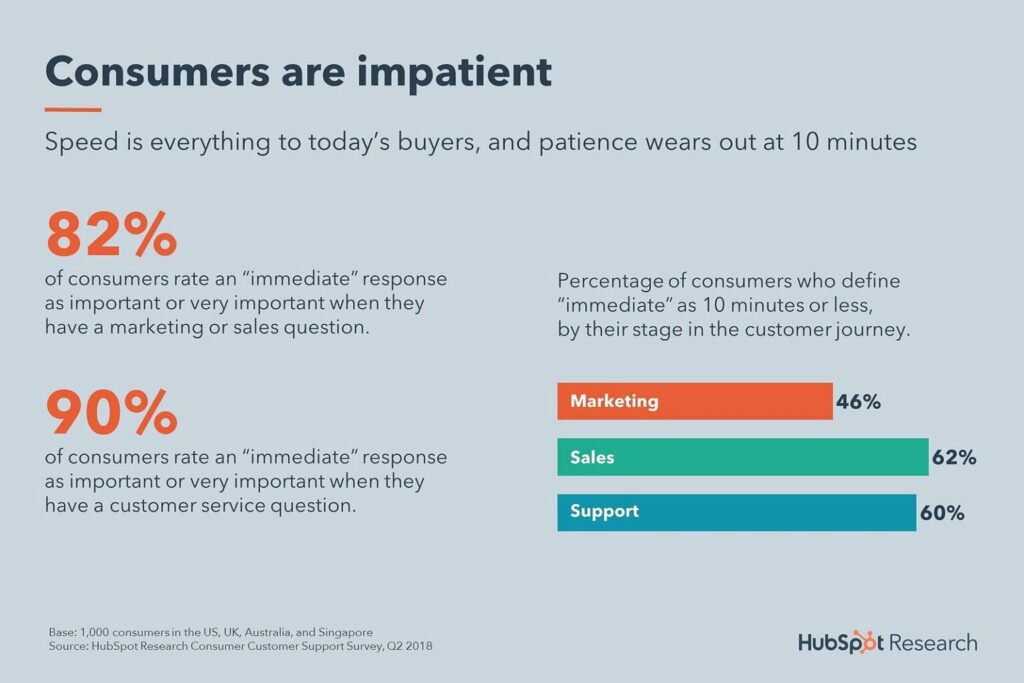 Through automation, your chatbots can provide quick responses to your customers' frequently asked questions at any time of the day. Your bots will also take care of leading customers to products, services and offers they may be interested in based on their intent and content of the conversation.
3. Omnichannel availability
As omnichannel availability becomes the norm for customer engagement, brands that can be there for their customers at the right place and time stand the best chance of delivering a positive user experience. Case in point: HubSpot reports that today's customers expect to communicate with companies through 13 different channels.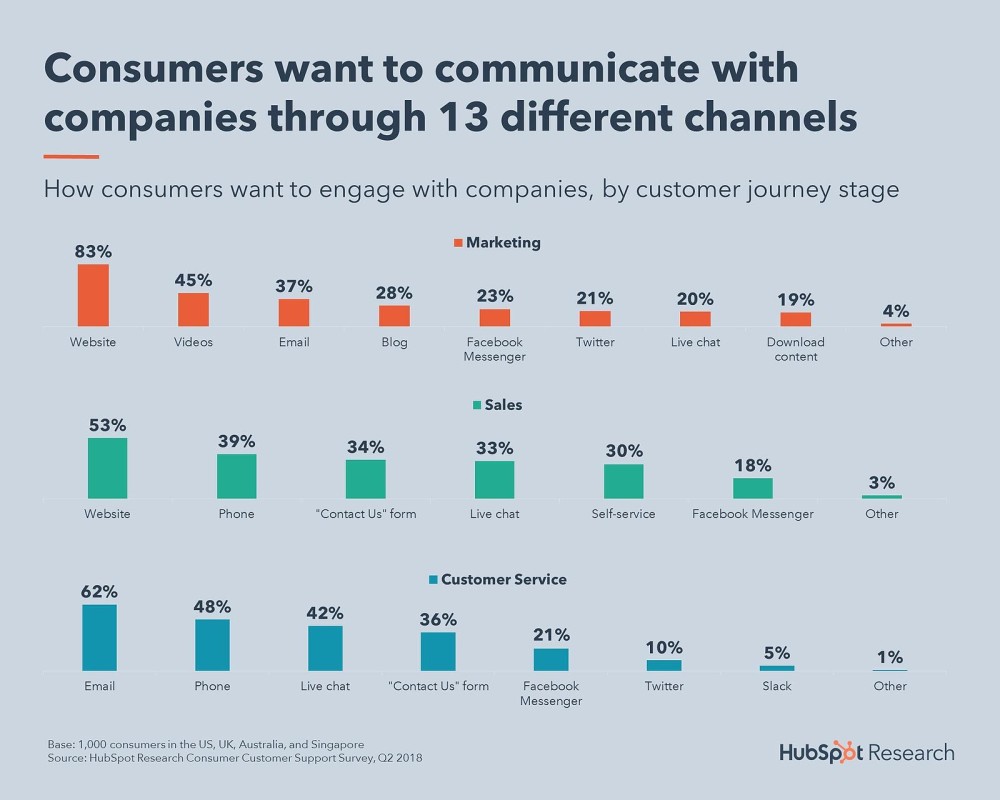 Developing a chatbot marketing strategy allows you to deploy a "front of house" team of chat agents across all your marketing channels, whether it's:
Your Facebook business page,

Twitter

and other social media channels;
Messaging

Apps

like

Facebook Messenger

,

WhatsApp

and Telegram;
Or even your

SMS

/text line.
And the best part? You can do this at scale without having to increase your contact centre headcount.
4 examples of a chatbot marketing strategy in action
Now that we've looked at the benefits of chatbot marketing let's go over four examples of how chatbots can be integrated into a digital marketing strategy.
1. Advertising and promotions: The North Face
No one enjoys receiving irrelevant promotional emails.
But chatbot marketing makes it possible to provide customers with marketing messages that they're interested in — think personalised ads, but delivered naturally through a conversation. According to New Adlucent Research, 71% of consumers prefer personalised ads, with 44% willing to share details like names, Email addresses and more for more targeted and relevant advertising.
Not only can chatbots help you deliver targeted marketing messages, but they can also improve customer satisfaction by helping lead customers through their buyer's journey. Take The North Face's chatbot, for example.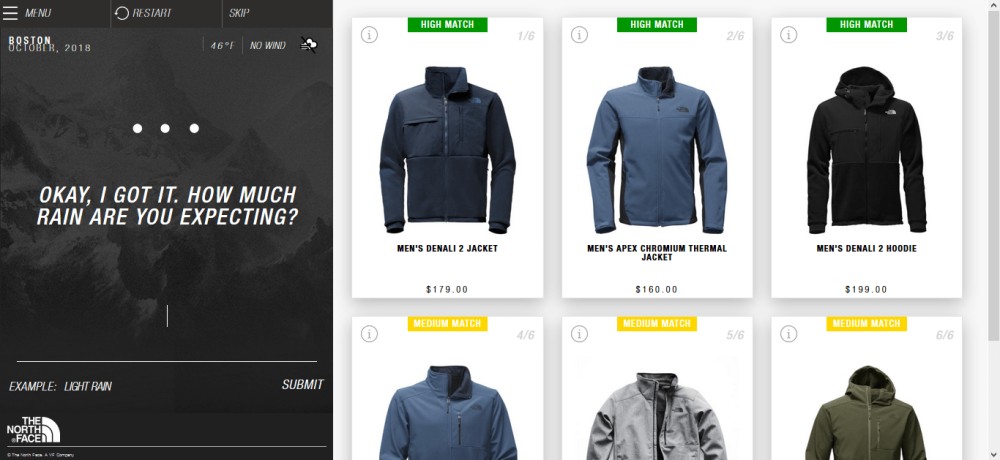 Powered by IBM Watson, The North Face's chatbot helps customers find the perfect jacket for any outdoor adventure, signposting to product recommendations. The Watson-powered shopping assistant engages customers in a quick Q&A to figure out what they need. For example, if the user wants to go on a winter excursion in Norway, the chatbot will recommend down jackets ideal for the weather.
Within a two-month month-testing period, some 50,000 people used the chatbot, generating a 60% click-through rate on product recommendations.
2. Instant customer service: Macy's
In 2016, Macy's deployed a chatbot to improve its in-store customer experience. With the help of IBM Watsons, Macy's deployed a chatbot on its mobile app to efficiently answer customer queries specific to their individual stores' locations. This also allowed Macy's to get instant feedback from customers.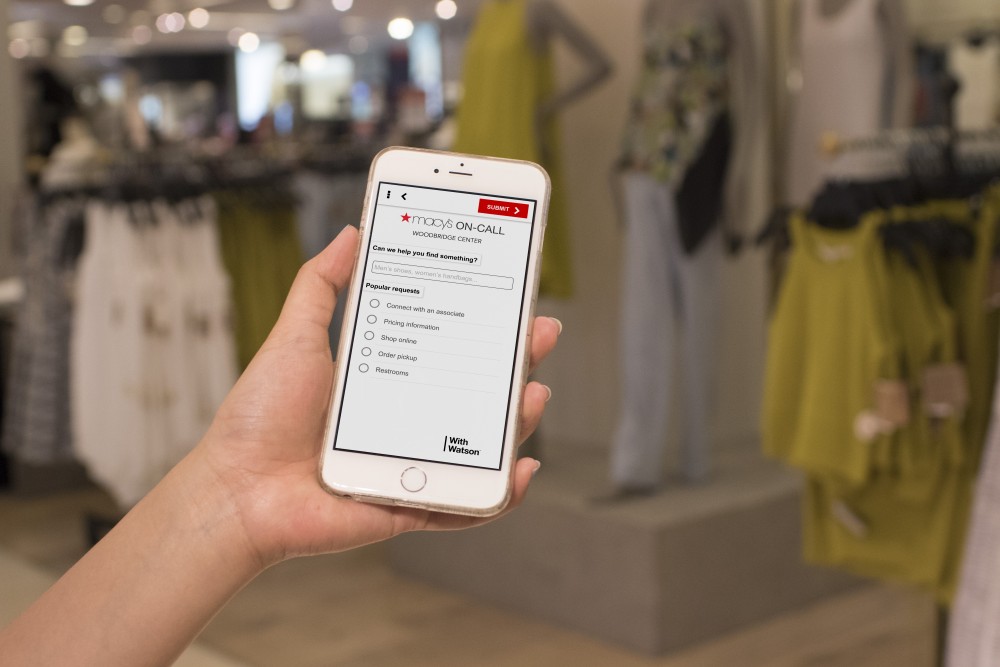 The conversational abilities 0f chatbot platforms allow you to blur the lines between customer support, customer relationship management and marketing. With a chatbot, you can engage your customer base at all stages of their buyer's journey.
Awareness stage: Chatbots can respond to customer queries about solutions to their problems. For example, an appliance store can help shoppers that need help deciding what kind of tumble dryer to get.
Consideration stage: At this stage, chatbots can engage customers by signposting to the ideal product or service that addresses their needs.
Decision: Finally, chatbots can help customers conduct product comparisons within the chat or dive into the specific features of your product/service, enabling them to make an informed purchase decision.
3. Using a messenger bot to generate revenue and sales: eBay and StubHub
Integrating chatbots with your social media and messaging channels can go beyond answering your customers' FAQs. With the right integrations, you can allow customers to:
Report something;
Pay for something;
Track something; and
Follow up on something, all without leaving the chat window or conversation.
In 2016, eBay ShopBot debuted on Facebook Messenger to gain access to more than 1 billion users on the messaging platform. The chatbot is a virtual shopping assistant that helps people find the best deals from the marketplace's one billion listings.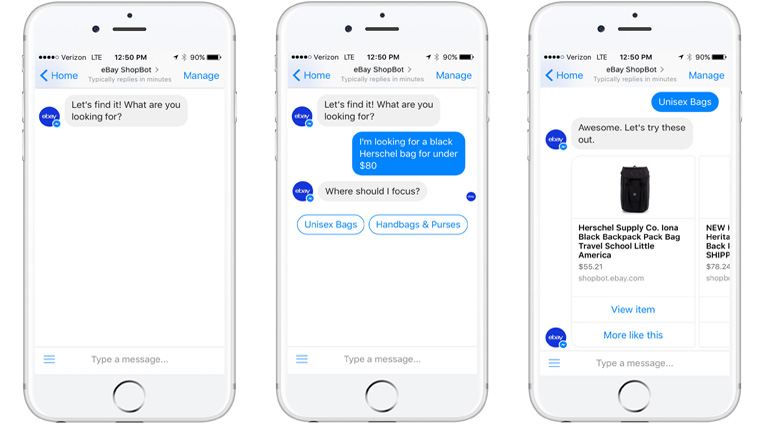 The StubHub chatbot takes an even more direct approach to driving sales. It allows users to buy event tickets using Facebook Messenger and seeks to create a more personalised user experience. The chatbot also gathers data from conversations to improve its response to different messages.
4. Driving engagement with
Voice

boots and virtual assistants: Starbucks

The same AI and machine learning and natural language processing technologies that power chatbots can also handle spoken language. Though relatively new to marketing, these Voice agents, also known as Voice bots, can expand your multichannel marketing presence — useful in a time when a growing number of users engage brands through virtual assistant services like Siri, Alexa, Cortana and Google Assistant.

Without touching a screen or keyboard, Voice bots allow customers to execute transactions like ordering groceries, following up on a delivery, paying for products, or ordering a coffee, in the case of Starbucks.


In 2017, Starbucks launched its Alexa Skill to help customers order through the Starbucks app by speaking to Amazon Alexa. The app's integration with Alexa and automatically configures the customer's store collection location. That same year, eBay teamed up with Google to integrate with the Google Assistant app and make ordering simpler for shoppers through the smart speaker, transforming the entire shopping experience.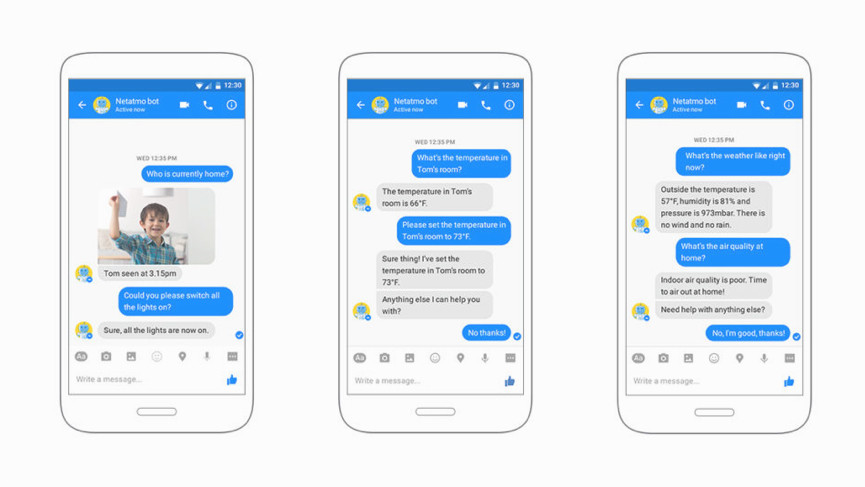 Chatbots can also be integrated with Internet of Things (IoT) devices. Netatmo, a manufacturer of smart home devices, launched a Facebook Messenger bot that lets users operate their smart home appliances, heating and lights using chat-based commands.
Revolutionise your marketing strategy with chatbot
The opportunities for integrating chatbots into your overall marketing strategy are limitless. Adding 24/7 availability and instant engagement to your campaigns enables you to make marketing less about promoting your brand and more about being helpful to your customers.
But that's not all. Chatbot platforms also let you mine your customer conversations for business intelligence. At Futr, our live chat and chatbot platform comes with a built-in analytics dashboard that reveals insights into your customers' needs, frustrations, the products and services they want, and their chatbot usage habits. This information unlocks opportunities to improve your core offering and customer experience.
Get in touch with the Futr team to see how our chatbot and live chatbot platform can streamline your marketing processes. Book a FREE demo today, and we'll take care of the rest. Be sure to follow the Futr blog to get more insights on how automation and digital transformation is changing the landscape of marketing.